.
From food aid to nutritious, locally produced food: A look at fortifying flour in Ethiopia
.
By Jeff Dykstra  –  24 July 2014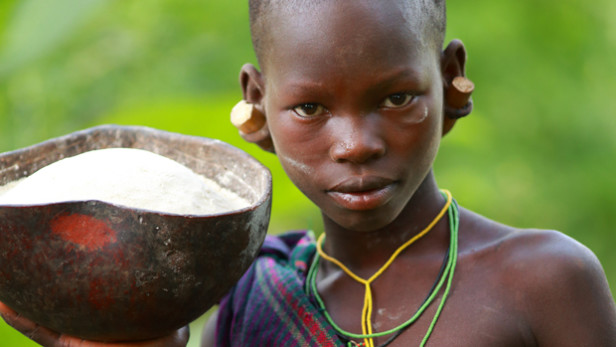 A girl from the Suri tribe in Ethiopia carrying a calabash with corn flour.
Right now in Ethiopia, nearly half of all children under the age of 5 are stunted and anemic. Not only are they short for their age, but they also suffer from diminished cognitive abilities and are more vulnerable to health problems overall.
According to the World Food Program, stunted children are more likely to repeat grades in school and achieve, on average, a year less schooling than other children. Nearly one third of child mortality in Ethiopia is associated with undernutrition.
The economic impact is immediately apparent: a less prepared, smaller adult workforce and an annual hit to Ethiopia's GDP estimated at $450 million. A weakened economy only feeds back into the vicious cycle; fewer internal resources are available to feed the population and invest in economic development.
At Partners in Food Solutions, however, we like to see that vicious cycle as a potentially virtuous cycle. When you turn it around, it means that better nutrition and sustained food security can drive economic growth. One crucial, but often overlooked, component of better nutrition is the fortification of basic foodstuffs.
In Ethiopia and throughout much of sub-Saharan Africa, food insecurity is often coupled with lower-quality food — an unvaried diet low in micronutrients. Wheat and other grains make up about two thirds of Ethiopians' calorie intake, but until very recently, not a single food processor in the country was fortifying flour.
That recently changed. ASTCO, a growing milling business based in Addis Ababa, has become the first company in Ethiopia to produce fortified flour. The impact on the health of the population and the strength of the Ethiopian economy could be immense, as 19 more millers may soon be part of a network of outlets making fortified products available to customers throughout the country.
ASTCO and hundreds of small and growing food processors in Africa are clients of Partners in Food Solutions. These entrepreneurs are building profitable businesses that can raise living standards in their communities by enabling them to buy more crops from local farmers, hire more workers and provide higher-quality, less expensive food. To maximize the opportunity, many processors are looking for technical and business counsel. In ASTCO's case, that meant establishing a process to fortify its flour.
That is where Partners in Food Solutions comes in. We connect professionals at multinational food companies, including Royal DSM, the world's leader in micronutrients, with businesses like ASTCO. Then we make it possible for these volunteers to reach across the globe without ever leaving their offices or labs. They use email, Skype and our cloud-based software to connect with businesses in Africa. This is remote knowledge transfer. We're not sending money or food; we're not using finite resources to send volunteers over to do the work; we're sending our knowledge and skills — resources that only multiply as you share them.
In partnership with the U.S. Agency for International Development and the African Alliance for Improved Food Processing, Partners in Food Solutions and partner TechnoServe are currently working with 20 Ethiopian food processors on fortification. But, thanks to the on-the-ground expertise of TechnoServe, we know that the vast majority of Ethiopians in rural areas can't buy flour and processed products from these producers. Instead, they eat grains ground to order by thousands of tiny traditional hammer-and-stone milling shops.
Nutritional deficiencies during pregnancy and the first two years of life can't be reversed, but they can be prevented. ASTCO and other African food companies have the will to reverse the trend so that in the future, two thirds of all Ethiopian adults need not have suffered from stunted growth as children. The food companies we assist are eager to see a healthy, happy population and a thriving economy, and they are eager to succeed as businesses in their own right.
Want to learn more? Check out Feeding Development's campaign site and tweet us using #FeedingDev.
Feeding Development is an online conversation hosted by Devex in partnership with ACDI/VOCA, Chemonics, Fintrac, GAIN, Nestlé and Tetra Tech to reimagine solutions for a food-secure future from seed and soil to a healthy meal.
.
Infrastructural investment to drive mobile expansion in Ethiopia, DRC
.
The underdeveloped mobile communications markets of the Democratic Republic of Congo (DRC) and Ethiopia are set to expand substantially in the next three to five years, mainly driven by growing infrastructural investment, a report by Frost & Sullivan has predicted.
According to the company's "Africa Mobile Communications Outlook on the Democratic Republic of Congo and Ethiopia", the two markets earned revenues of US$1.78 billion in 2013, which is expected to reach US$3.27 billion by 2018.
"While voice is still by far the dominant contributor to service revenue, data services and mobile money solutions are expected to fuel growth in the long term," said Frost & Sullivan information and communication technologies research analyst Lehlohonolo Mokenela.
"Data revenue will be driven by the increasing number of low-cost mobile devices in the market and the growing popularity of social media platforms. On the other hand, mobile money will grow in prominence as the number of Ethiopia and DRC's unbanked populations have prompted their respective governments to place financial inclusion at the forefront of their socio-economic plans."
Mokenela said mobile operators will need to consider more cost-effective network expansion strategies in the DRC in order to grow their customer base, especially in rural areas.
"Leveraging infrastructure-sharing models and using hybrid base stations can help operators lower their operational site costs and mitigate the country's intermittent electricity supply."
http://www.humanipo.com/news/46278/infrastructural-investment-to-drive-mobile-expansion-in-ethiopia-drc/
.
How coffee farmers sponsor government projects in Ethiopia
.

–  Farmers union own bank
Ethiopia, a poor East African country with record of abject poverty, is now one of the fastest growing economies in that region. This achievement followed an effective value chain developed by the country's coffee farmers under the aegis of Oromia Coffee Farmers Cooperative Union (OCFCU) that does not only improved the earnings of the Ethiopian farmers but also empowered the OCFCU to sponsor some government projects.
Delivering a paper at the recently concluded conference on Finance for Revolutionising agricultural value chain in Nairobi, Kenya, co-sponsored by the African Rural and Agricultural Credit Association (AFRACA) and the Technical Center for Agricultural and Rural Cooperative (CTA), Mr. Dessalegn Jena of OCFCU said his union provides social services as part of its contribution to the government and people of Ethiopia.
He said the union has built 81 schools and related facilities and transferred to the government, constructed 20 clinics, provided 89 sources of potable water, 50 kilometres of all weather roads, built 7 bridges, four coffee processing mills, 46 warehouses, five flour mills and one coffee museum from the country's coffee farmers' profit.
Jena, who said coffee farming is the most viable agricultural activity in the country, revealed that agriculture accounted for 46.3 percent of the nation's GDP, 83.9 percent of export and employs 80 percent of labour.
He said small scale producers contribute over 90 percent of agricultural products.
He said before the establishment of the Oromia Coffee Farmers Cooperative Union, farmers in the country were producing at a loss without an effective value chain, adding: "We came together and formed the union with a view to proving market information to the various farmers cooperative societies in the country.
"The union is also helping farmers to sell their coffee products at better price at local and international markets, it also improves and maintain the quality, productivity and sustainability of coffee production and provide coffee farmers with social services. We have value chain supporting facilities for our farmers that consist of 127 wet mills, 26 dry coffee hullers and two coffee processing and grading machines among others."
He said part of the problems Ethiopian farmers faced in the past was the difficulty in accessing agricultural loans from banks as most commercial banks in the country demanded for huge collaterals before granting them loans with high interest rates.
He added: "To address that problem, we established the Cooperative Bank of Oromia designed to provide full fledged commercial bank service, solve the financial challenges of cooperatives, reach the rural communities where other banks do not reach and expand saving habits in the rural communities.
"At the moment, the Cooperative Bank of Oromia has Birr 7.3 billion as its asset, Birr 901.34 million capitals and its loan portfolio Birr 3.2 billion. In 2012 alone, the bank granted $12.3 million US dollars loan to farmers. In 2013, the loan the bank granted to farmers hit $15 million US dollars.
"Because farmers and farming activities everywhere require insurance service, the Oromia coffee farmers union also established our own Oromia Insurance Company (OIC) with a share capital of $7.7 million US dollars and $2.4 million US dollars initial paid-up. Cooperatives and farmers in Oromia regional state alone own subscribed share capital of $1.3 million US dollars in the insurance company."
Jena said the essence of establishing the insurance company is to provide insurance services, index based livestock insurance, farm insurance and address the need of farmers in the country.
http://www.dailytrust.com.ng/daily/agriculture/29938-how-coffee-farmers-sponsor-government-projects-in-ethiopia
.
Progress Cooperatives for Change project (C4C): 2nd quarter of 2014
Thursday, July 24, 2014
.
Through the project "Cooperatives for Change (C4C): Value Chain Approach for Cooperative Development in Ethiopia", SNV and Agriterra cooperate to improve the business performance of agricultural cooperative unions and producer cooperatives in Ethiopia. The objective of the project is to improve the livelihoods of smallholder farmer households in Ethiopia by modelling and scaling up linkages of farmer organisations to remunerative and reliable markets through business arrangements with buyers and service providers, access to inputs and finance, technologies and strengthening of their capacities to meet the requirements of the markets in terms of quantity and quality. More than 42,000 smallholder farmers' households as members of the unions and their cooperative will benefit directly.
The four-year project, which started one year ago, will provide smallholder farmers' households a more stable and profitable market for their crops, while enabling them to benefit more fully through their organisations of a strengthened enabling environment. The attached PDF file provides a quick insight in the progress made in the second quarter of 2014.
 C4CProgressReportQ22014.pdf
https://www.agriterra.org/en/news/58670/progress-report-cooperatives-for-change-project-c4c-2nd-quarter-of-2014
.
East Africa Rising
The Greater Indian Ocean is the maritime organizing principle of geopolitics, uniting the entire arc of Islam (including the Red Sea and the Persian Gulf), East Africa, the Indian subcontinent and Southeast Asia. But while economic dynamism has focused more on the Indian subcontinent and Southeast Asia over the past quarter-century, lately the most intriguing success story has been East Africa. So while the situations look dire in Ukraine and Gaza this week, take a moment to look at a part of the world — once deemed hopeless — that is quietly experiencing a regeneration.
From Mozambique northward to the confines of Somalia even, there has been sustained progress and renewed hope. Over the past ten years, annual GDP growth rates have averaged 8 percent in Mozambique, 7 percent in Tanzania, 5 percent in Kenya and 10 percent in Ethiopia. Tens of billions of dollars are in the process of being poured into Mozambique and Tanzania to tap into vast offshore deposits of natural gas intended to feed growing demand in both South and East Asia, at the other end of the Indian Ocean. Meanwhile, hydrocarbon exploration is occurring in northwestern Kenya and off of Kenya's coast, as well as in the interior reaches of East Africa, particularly in the Great Rift Valley basin stretching through parts of Uganda, the Democratic Republic of the Congo and Tanzania.
Exploring for energy is not the only development in East Africa. A growing middle class with an attendant consumer sector — along with increased economic and political integration — is contributing to significant foreign interest in building road, harbor, rail and power projects that will connect these Indian Ocean countries with Africa's interior. Such projects will also make these countries a maritime and energy center on which the Indian subcontinent and Asia partly depend.
Even Somalia, long isolated because of its civil war and Islamist insurgency, is no longer quite as cut off from global economic interests as it once was. The radical al Shabaab group is still a guerrilla threat, but it has lost substantially the capability of defeating and replacing the Somali government. A multiyear effort by African Union peacekeepers, with extensive Western security and economic backing, has led to the group's degradation. And thanks to counterpiracy operations from a host of world navies, Somali piracy is just not the threat it once was. As Somalia slowly and tenuously moves in the direction of stabilization, there is interest from foreign companies in exploring for minerals in the country's interior and for hydrocarbons off the Somali coast — for the rich offshore natural gas fields of Somalia's southern neighbors may extend farther north.
Even the eastern Democratic Republic of the Congo — to the west of Kenya, Uganda and Rwanda — may be on the long march to greater stability as peacekeepers from South Africa, Tanzania and Malawi have been making some headway against Rwandan-backed guerrillas there. If this trend continues, there is sure to be more foreign interest in the region's vast yet underdeveloped mining sector, even as Uganda becomes a hub for a cross-border trade in hydrocarbons and consumer goods for central-east Africa. Rwanda, too, has attracted investment in its agriculture and light manufacturing sectors — the fruit of greater stability there also.
Of course, nearby South Sudan has been going in the opposite direction, toward greater dissolution. The Western-encouraged breakup of Sudan in 2011 has thus far tragically backfired, with tribal animosities inflamed by an internal battle over the hydrocarbon spoils of the new nation in the south. Unity in South Sudan existed only as long as there was a common threat in Khartoum. That threat now absent, distrust has spiraled into a seemingly irreconcilable armed conflict between the once brothers-in-arms.
The overall trend in this vast region is dominated by increasing foreign investment in the pursuit of natural resources, but this level of investment would simply not be possible without greater political and economic stabilization itself. Governments here and elsewhere in Africa are no longer driven by the same statist ideas of the sort that once dominated the continent, especially during the Cold War when socialism was the philosophical avatar of too many African leaders. While little may have changed in terms of who rules over these African states (with often the same political parties in control as during the Cold War), the difference has come in the reward of capital now within reach for the resources over which these governments hold sovereignty. Put another way, the opportunity cost of not developing a country's resources is a political calculation leaders in East Africa are no longer willing to wager.
Certainly the defeat of the Soviet Union had a positive effect on Africa, albeit delayed and indirect, but it has not been Western liberalism that has succeeded in Africa so much as pragmatism. For it is the institution of the ruling party that affirms political continuity across much of the East Africa region, even as countries in East Africa have achieved consistent and strong economic growth. After all, Ethiopia's government is by no means a democratic regime; neither is Rwanda's. Yet Ethiopia has averaged a 10 percent annual growth in GDP and Rwanda 8 percent over the past decade or so. Thus, to say that Western-style democracy has succeeded in Africa is a narrow version of the truth. More truthful is the fact that what is transpiring constitutes Asian-like pragmatism with African characteristics. Further encouraging this is the large-scale presence of the Chinese nearly everywhere in Africa, scouring for minerals, metals and hydrocarbons, and building transportation infrastructure as a consequence. For the Africans, the Chinese are, in part, symbols of economic dynamism without the stern moral lectures about democracy that they get from the West.
Examples of Asian-like pragmatism are in evidence throughout the continent. Banished are political leaders in countries such as Mozambique and Tanzania, willing to oppose the development of vast reaches of their countries — and the economic potential therein — for the sake of internal political control. Others, such as the political leadership of Uganda and Rwanda, will embrace economic liberalism, as long as political freedoms do not challenge the ruler's interests. East Africa has the edge over regions elsewhere in the continent because of its geographical links to Asia and the Indian subcontinent by way of the Indian Ocean.
The real test will come as the wealth from natural resources continues to accumulate. Will that money be stolen by new elites or will it diffuse throughout societies, so that the result is more modern middle classes that can, in turn, stabilize and expand effective institutions and a culture of civility and human rights? The risk of another descent into rampant corruption and misrule is real, since hydrocarbon and mineral wealth are of the kind whose profits can be concentrated into relatively few hands. The bottom-line question is this: Will the presidency control the hydrocarbons, such as is the case in Angola or Nigeria, or will the institutions of the state and the private sector be empowered to develop and adjudicate the pursuit of Africa's emerging resources?
One thing is clear: Economic change is so ever-present and vibrant throughout East Africa that the region's geographical orientation itself may be changing. Rather than be part of a once-lost and anarchic continent, the area from Mozambique north to Ethiopia may be in the process of becoming a critical nodal point of the dynamic Indian Ocean world.
http://www.realclearworld.com/articles/2014/07/24/east_africa_rising.html
.
Arab League encouraging Arab countries to strengthen ties with Ethiopia
.
Ambasssador Saleh Sahabun, Arab League Ambassador to Ethiopia and the African Union, disclosed that the organization is striving to encourage Arab countries to strengthen ties with Ethiopia.
As part of this effort, he said, preparations were underway to celebrate an 'Arab Week' in the near future in a bid to further consolidate relations in social and cultural areas.
Ambassador Sahabun said that as Ethiopia was the seat of the African Union and United Nations Economic Commission, many Arab countries were working to promote their ties with
Ethiopia in economic, political and social cooperation.
He noted the fact that 16 Arab countries had opened embassies in Ethiopia as a manifestation of their desire to consolidate their bilateral ties.
He added that the stability and ample investment opportunities in Ethiopia had given impetus to the desire to strengthen the relationship.
He said Ethiopia's impressive economic growth could as a model to many Arab and African countries.
This, he said, was evident in the massive investment being undertaken by investors from Sudan, Saudi Arabia, United Arab Emirates and other countries.
Ambassador Sahabun also welcomed the decision by the new leadership in Egypt's decision to continue with the tripartite dialogue to resolve issues over the construction of the Grand Ethiopian Renaissance Dam.
He said the Arab League appreciated Ethiopia's role in combating terrorism and pacifying the region and it wanted to work closely in economic, political and social issues.
The Arab League opened an office in Addis Ababa in 1968.
http://www.waltainfo.com/index.php/explore/14274-arab-league-encouraging-arab-countries-to-strengthen-ties-with-ethiopia-
.
First bottles of Ethiopian wine produced by French firm Castel
Kim Willsher in Paris
http://www.theguardian.com/world/2014/jul/23/first-bottles-ethiopian-wine-castel
.
No recent FAA warning for flights in or out of Ethiopia: U.S.
.
There has been no recent Federal Aviation Authority (FAA) warning for flights in or out of Ethiopia, according to US Embassy in Ethiopia.
The FAA flight prohibition SFAR 87 of May 16, 2000 pertaining to Northern Ethiopia predates the June 18, 2000 cessation of hostilities between Ethiopia and Eritrea and has not been updated subsequently, the embassy said in a statement it issued yesterday.
The FAA advisory KFDC A0012/97 pertaining to Ethiopia/Kenya also dates to 2002, it said.
Neither the FAA flight prohibition nor the FAA advisory was issued after Flight MH 17 was shot down in eastern Ukraine on July 17, as some media outlets have erroneously reported.
Both the Special Federal Aviation Regulation (SFAR) No. 87 and the FAA advisory apply only to U.S. air carriers or commercial operators, it noted.
http://www.waltainfo.com/index.php/editors-pick/14262-no-recent-faa-warning-for-flights-in-or-out-of-ethiopia-us-
.
By Beyene Geda
Ethiopia's Addis Ababa University on Thursday conferred Microsoft founder, Bill Gates with an honorary degree in recognition for his role to humanity.
"It is a special honour to receive an honorary degree from Addis Ababa University," Gates said, after receiving the degree from the university.
"This is one of the leading institutions of higher learning in Africa – a continent whose future has been a central interest of my career ever since my wife and I began our foundation nearly 15 years ago."
His speech at Addis Ababa University marks 20 years since he first set foot on Africa, which inspired the establishment of the Bill & Melinda Gates Foundation.
Addressing students at the university, Gates said: "Africa is now in an incredible position to shape its own destiny for the better, for one very simple and powerful reason: the countries of Africa are learning from each other".
He acknowledged the development gains made through foreign governments, international aid, and non-profit organisations, such as his organisation towards developing the continent.
"The real fuel for development will be the resources of African nations themselves – whether that's in the form of government funding, private-sector investment, or just plain human creativity at all levels of society," Gates continued.
"This is where the idea of 'African countries learning from each other' becomes so important. If you want to spend your national budgets as effectively as possible, there is now a clear path for doing exactly that – and Africans themselves are defining that path, for others to follow if they choose."
Gates, the world's richest man, also heaped praise on Liberia, Malawi, and Tanzania, for the great progress made in reducing child mortality rates, but acknowledged that there is still a long way to go before Africa reaches its full potential.
"There is no path to lasting growth within Africa that is not widespread growth. It's not possible. If Africa seeks prosperity, it must provide for the health and nutrition of all – including the poorest," he said.
After stepping down as Microsoft chairman, Gates has directed his focus to his foundation's efforts to tackle health issues in Africa.
In recent efforts to eradicate polio, he secured $335 million in pledges from six fellow billionaires – including $100 million each from Mexico's Carlos Slim and former New York City Mayor Mike Bloomberg.
He has also been credited for getting other wealthy personalities involved with philanthropy.
According to Forbes, Gates and Warren Buffett have so far convinced more than 100 of the super-rich to sign on to the Giving Pledge, a promise to donate at least half their net worth to charity.
http://www.theafricareport.com/East-Horn-Africa/bill-gates-receives-honorary-degree-from-ethiopia.html
.
Ethiopia attributes economic growth to rising exports-W/Bank
.
Rising exports have contributed to Ethiopia's double digit economic growth over the past decade, but the recent drop in prices has exposed underlying vulnerabilities in the country's export structure, the World Bank said in a report on Wednesday.
There is scope for improving the quality of existing commodity exports, through basic value addition, such as coffee wet processing or machine flaying of animal skins said Guang Zhe Chen, World Bank Country Director for Ethiopia.
Chen said by starting to compete on the quality of existing commodity exports (and not just on price), Ethiopia can reduce sensitivity to volatile international prices thereby supporting the gradual shift of production and exports into agro-processing and light manufacturing.
Ethiopia's export sector is currently too small to contribute to structural transformation, unlike in East Asia, where booming exports helped shift economic activity and workers away from low productivity agriculture into higher-productivity, said Lars Moller, World Bank Lead Economist and Program Leader and one of the lead authors of the report.
http://www.waltainfo.com/index.php/explore/14261-ethiopia-attributes-economic-growth-to-rising-exports-wbank
.
State Minister Dewano holds talks with MED representatives
.
State Minister for Foreign Affairs, Dewano Kedir, held discussions with representatives of the Middle East Development LLC (MED LLC), on Tuesday.
The MED LLC delegation was headed by Tarek Fawad Malik, Chief Executive Officer of MED LLC.
The talks covered ways to capitalize on selected investment fields including agriculture and agro-processing as well as work to improve results.
The State Minister welcomed the delegation, and recalled the successful visit made by the Chairman of MED LLC, Sheikh Tarek M. Binladen, to Addis Ababa in October last year aiming at finding ways to invest in areas of agriculture and agro-processing.
He reminded the delegation that he himself had held fruitful and robust discussions with the Sheikh and other Saudi Arabian business persons.
Emphasizing the long-standing and historic ties between Saudi Arabia and Ethiopia, the State Minister said increasing investment links in areas of agriculture and agro-processing would elevate Ethio-Saudi Arabian relations to a new level.
He noted that the mix of investment and business policies and strategies of the Government had allowed Ethiopia to become an epicenter of preferred international investment and trade flows.
He underlined the strategic importance of Ethiopia, its massive infrastructure development, adequate labor force, peace and security, adequate power supplies, suitable climate, impressive economic development and huge market opportunities and macro- economic stability. These were, he said, key enablers for the improved investment and business landscape.
He suggested the delegation should also consider other priority areas for investment, including manufacturing, in order to advance common development and mutual progress.
Mr. Tarek Fawad Malik said the delegation appreciated the role of the Ministry in facilitating the close engagement of Ethiopia with international investors and business communities including MED LLC.
He noted that their visit to Ethiopia was to concretize practical cooperation in the area of agriculture.
He also said that MED LLC, a socially and ethically responsible organization, was ready to encourage pragmatic cooperation with Ethiopia.
Experts from the organization would undertake site visits and assess investment opportunities in collaboration with their Ethiopian counterparts.
State Minister Dewano assured the delegation that the Ministry was committed to support their project and make the objectives of MED LLC a success.
http://www.waltainfo.com/index.php/explore/14264-state-minister-dewano-holds-talks-with-med-representatives-
.