.
New Nile Petroleum Company Headquarters in Ethiopia
.
Nile Petroleum Company announced that new headquarters of the company will be inaugurated soon in Addis Ababa, the capital of Ethiopia.
The placement of the headquarters for the leading petroleum company indicates that the company is keen on benefiting from the Ethiopian market and marketing its petroleum products in the Horn of Africa.
"The idea of opening a branch for Nile petroleum in Addis Ababa refers back to 2005," said Manager of Nile Petroleum Company-Addis Ababa, Eng. Mohammad Azhari.
According to Azhari, the shopping centre owned by the Nile Petroleum Company in Addis Ababa is considered one of the largest centres in the continent.
Azhari also told Sudan Vision that Nile Petroleum ranked as the fourth biggest petroleum company in Ethiopia.
"Our company is the only one that produces ethanol in Africa," said Azhari.
He added a product has been developed called, Nile Ultra-Ten, which consists 90 percent of benzene and 10 percent of ethanol.
Nile Petroleum
Azhari clarified that around 90 percent of benzene consumed in Ethiopia comes from Sudan – namely from Shajara Repository – pointing out that the total monthly amount loaded to Ethiopia totals 16,000 tonnes of benzene.
He said that the company has twelve petrol stations in Ethiopia, announcing that it is preparing to construct 24 more stations in different parts of Ethiopia.
Azhari asserted that the Nile Petroleum Company is providing cement, ceramic and textile factories with fuel.
He announced that he has met with the Ethiopian Investment Minister to investigate the appropriate approaches to facilitate Sudanese investment in Ethiopia.
The Ethiopian minister disclosed that Sudanese investment in Ethiopia totals $3.5 billion.
http://news.sudanvisiondaily.com/details.html?rsnpid=238362
.
Ethiopia grants oil exploration concession to Russian firm
.
Ethiopian Mines Minister Tolosa Shagi and GBP Global Resources have agreed to an exploration agreement.
World Bulletin / News Desk
Ethiopia's Ministry of Mines on Thursday granted an oil-exploration concession to Russian energy company GBP Global Resources.
The exploration agreement was signed by Ethiopian Mines Minister Tolosa Shagi and GBP Global Resources representative Alexander Ivanov.
In the event of any oil or gas discoveries, according to the agreement, resource sharing will depend on the type and volume of the resource discovered, the ministry said in a press release.
No further details were provided concerning the concession.
"The agreement shows the ministry's persistence in regard to working with capable business partners to explore for and discover the petroleum resources of Ethiopia," Shagi said.
"It should be clear that we are working over different parts of the country, including the vast Ogaden Basin in the east, the Abbay Basin, the Southern Ethiopian Rifts (South Omo) and the Gambella Basin in the west," he added.
"We believe an enormous scientific undertaking is being accomplished to understand Ethiopia's petroleum potential and ultimately make discoveries that will contribute to the country's economic development," Shagi said.
http://www.worldbulletin.net/africa/140916/ethiopia-grants-oil-exploration-concession-to-russian-firm
.
IFC Trade Facility Supports Petroleum Imports in Ethiopia
.
IFC, a member of the World Bank Group, today announced that it will participate up to $150 million in a $450 million trade finance facility arranged by Natixis to finance Ethiopia's import of refined petroleum products.  The facility will support the supply of critical energy products in Ethiopia; powering the country's economic growth.
Under the agreement, IFC, Natixis, Standard Bank and other lenders will help finance Independent Petroleum Group's import of petroleum products into Ethiopia over one year. The Group maintains a strong relationship with Ethiopia Petroleum Service Enterprise, being one of the main suppliers of petroleum products to the country for the last four years.  Independent Petroleum Group recently secured the 2014 annual tender to supply over half of Ethiopia's imports of refined petroleum products.
The second-most populous country in sub Saharan Africa; Ethiopia imports all of its petroleum products, which are critical for transportation, industrial and household uses.
"Natixis has a longstanding experience with Ethiopia for over 30 years", said Felipe Lopez Cruz, Natixis Regional Head of Global Energy and Commodities Dubai branch.  "Our expertise in commodities, our presence in the Middle East, as well as the partnership with IFC and Standard Bank has allowed Natixis to finance Ethiopian oil imports successfully. We are proud of this achievement given the strategic nature of this flow to Ethiopia and to our client, Independent Petroleum Group".
"The established facility will provide flexibility and support to the Ethiopian Petroleum Supplier Enterprise by extending the credit period for importing petroleum products and introducing new financial institutions and banks to the country", said Abdullah Al-Khandari, the Chief Financial Officer of IPG.
Ethiopia's economy has experienced strong growth over the past decade, reaching 7% in 2013.  Still, almost 30% of the country's population continues to live below the poverty line of $1.25 per day.  A landlocked country; Ethiopia relies on road transport to move critical goods such as construction materials and agricultural commodities.  Imports of petroleum products are thus crucial for several key sectors of the economy.
Oumar Seydi, IFC Director for East and Southern Africa said, "Ethiopia depends on imported petroleum products to meet its infrastructure, agriculture and energy needs. IFC is committed to encouraging trade that supports economic growth and job creation in Ethiopia."
IFC's strategy in Ethiopia involves working closely with the private sector to support infrastructure, agriculture and entrepreneurs.
http://africabusinesscommunities.com/index.php/rss-abc-news/204305-ifc-trade-facility-supports-petroleum-imports-in-Ethiopia
.
Ethiopia's loan reimbursement capacity growing: WB
.
The World Bank said that the growing capacity of Ethiopia to pay back loans has helped it secure huge supply of loan.
The Debt Sustainability Analysis of the World Bank indicates that the challenge the country faces in securing loan is simple as its debt burden is low.
World Bank Country Director Guang Z. Chen told ENA that the reimbursement capacity of Ethiopia is growing from time to time.
The growth of foreign direct investment and the relative increase of export trade are also among the factors cited.
Some eight projects were launched in Ethiopia last year by utilizing the 1.6 billion USD loan given to Ethiopia, it was indicated. This has raised the total number of projects supported by the bank to over 35.
It is possible to further increase foreign trade by adding export items and diversifying products, the Country Director said, adding that encouraging the manufacturing sector is essential to this.
The success attained in utilizing loans for the targeted objects has ensured the continuity of supply of credit, he added.
According to Chen, loans extended for agriculture, roads, safe water supply and similar programs are being finalized as per the schedules.
According to ENA, data obtained from the bank state that 20,000 hectares of land has been readied for irrigation development and WB has provided 2 billion USD in loan and donation for the expansion of roads since 1991.
http://www.waltainfo.com/index.php/explore/14213-ethiopias-loan-reimbursement-capacity-growing-wb
.
Ethiopia Seeking for Indian Bank
.
Even if the Ethiopia's banking industry is close to foreign banks, it is now seeking the Indian banking system, State Bank of India, to engage in it's economy and open a representative office.
Ethiopia's Minister for Industry, Ahmed Abetew, said "Previously the Ethiopian government tried to support (investment funds) by availing investment finance with 70:30 ratio – 70 percent loan and 30 percent equity".
Ahmed added, "But nowadays, the demand for loan is higher than available loanable funds". "That is why the presence of SBI presence is very crucial here in Ethiopia for availing investment funds for Indian companies as well as other companies."
SBI is expected to deliver assistance to private investors with feasible project ideas, the Minister added.
Subramanian Venkataraman, country head and CEO of SBI, commented "Ethiopia's economy is predominantly agriculture-based and India is also per se the same but the banks in India have done a tremendous job in promoting agriculture and modernizing agricultural activity by providing soft loans to agriculturalists."
Venkataraman furthered, his company would like to discuss with the Ethiopian government and work with the Ministry of Finance and Economic Development (MoFED) or National Bank of Ethiopia (NBE)., if there is any opportunity.
He also advised the Ethiopian government to work with it's Indian counterpart in order to understand how the banking industry has enhanced India's economic development.
Other banks are can also extend their support to the Ethiopian government to bring changes in the Ethiopian banking industry, Venkataraman noted.
"Ethiopia has the opportunity and India has the potential if the two governments work together in the financial sector. Our governments could ensure access to our people appropriate financial products and services needed," he added.
He further asserted NBE should encourage expansion of bank branches, in particular in rural areas and semi urban areas for their significant proportion of household.
Ahmed answering the CEO's questions said, the Ethiopian government would give any support to have the presence of SBI as it has learned from the results achieved from the ExIm Bank of India, which also has a representative office in Ethiopia.
http://www.2merkato.com/news/alerts/3138-ethiopia-seeking-for-indian-bank
.
UK Ambassador: Economic development in Ethiopia very impressive
.
UK Ambassador to Ethiopia Greg Dorey said the consecutive economic development registered in Ethiopia over the past years is "very impressive".
In an exclusive interview with ENA, the Ambassador said the development in Ethiopia is "very impressive" and "potentially sustainable" as well if the government continues to take the right decisions.
"I think it is very impressive whether you take the government's figures or you take IMF figures … in terms of GDP growth. That is very very impressive and its potentially sustainable growth as well if the government takes the right decisions on the economy then that growth can continue into the future."
The economic growth in Ethiopia has been accompanied by a huge social investment in human development.
The Ambassador appreciates the strides that have been taken in improving the health, education and social wellbeing of the people.
"Of course this has been accompanied by a huge social investment in human development which is equally important. And you can see the tremendous strides that have been taken in improving the health, education and social wellbeing of the people in Ethiopia really is very acknowledgeable what has been done in a relatively small space of time."
"Ethiopia is still a poor country so that work needs to continue." he added.
"So I have to say everything is moving in the right direction it just needs the right decision" to be taken to continue those achievements.
He expressed hope that the economic growth in Ethiopia will continue to benefit the people through job creation and sustainable development.
The bilateral relation between Ethiopia and UK is 'very diverse, mutually beneficial and very good' according to the Ambassador.
"Our bilateral development cooperation is the biggest such program in the world for Ethiopia it has been for some years and I expected to continue to be."
UK provides over 300 million pound sterling annually to Ethiopia in connection with development programs.
Trade and investment relationship is also taking off from a 'low base'. UK imports of goods from Ethiopia have grown by 48 percent from 48 million pound sterling in 2009 to 70 million pound sterling in 2013. In the same period UK exports to Ethiopia have also grown by 29 percent from 77 million pound sterling to 99 million pound sterling.
Climate change is one of the areas the two countries are working together.
The Ambassafor recognizes the efforts of the government to create a climate resilient green economy by 2025 and achieving a middle income status with zero carbon emissions.
Ambassador Dorey said the Climate Resilient Green Economy Policy of Ethiopia can be a model to other countries.
"It is an absolutely adorable policy. I could recommend it highly enough not just for Ethiopia but it's a model to other countries as well.'
The UK government is putting 45 million pound sterling into this area partly into creating or enhancing institutions which deal with climate change both public and private.
http://213.55.98.22/enae/index.php?option=com_k2&view=item&id=2379:uk-ambassador-economic-development-in-ethiopia-very-impressive&Itemid=219
.
Enterprises designed to serve the smallholder farmer
.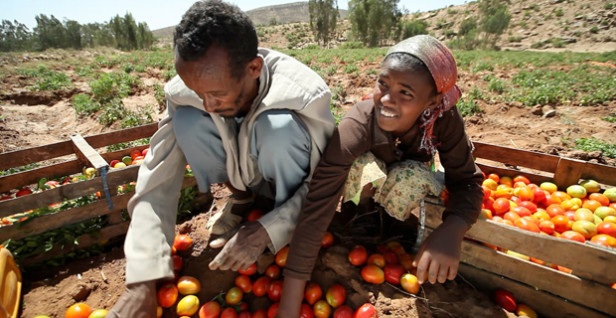 .
For 70 percent of the developing world, agriculture is the main source of income and employment. In Ethiopia, agriculture accounts for almost half of the country's gross domestic product and 90 percent of its exports. It's the main source of income for more than 85 percent of the population, which these days is nearing 100 million people.
Despite its mass importance, agriculture in Ethiopia is characterized by low productivity, with most smallholder farmers having limited access to inputs, information and services. Smallholders also suffer from a lack of training on the productive benefits of quality inputs and improved cultivation practices. Unfortunately, this makes for an uphill plight if one wants to rise out of poverty.
Imagine you are one of these smallholder farmers. Imagine you know that an improvement in the quality of your life — your ability to better feed your family, to send your children to school, to access proper health care — depends on what you are able to harvest and sell at the market.
But what if you could access the inputs you need at a store that guarantees high quality and fair prices? What if you could talk to an expert agronomist or veterinarian when you have a question or concern? What if there was a place to learn about how to change the way you manage your farm and livestock so that the land you cultivate and animals you raise yield a higher quantity and quality range of products?
Well, if you are a smallholder farmer in the Oromia Region of Ethiopia, things may be looking up. As part of a two-year pilot program funded by the U.S. Agency for International Development, the Commercial Farm Service Program is establishing what agriculture and livestock producers need most: an Ethiopian-owned one-stop shop where smallholder farmers can access the inputs, consultation and trainings they need to increase their yields and eventually improve their livelihoods.
The program is part of U.S. President Barack Obama's Feed the Future initiative, which aims to help vulnerable households participate in economic activities and bring jobs and income opportunities for rural households. The program is implemented by CNFA, a U.S.-based international development organization that focuses on stimulating economic growth through enterprise-based agricultural initiatives. CNFA has developed a series of input supply models, all of which are driven by and adapted to local production, markets, entrepreneurs and context.
Having had great success setting up businesses with this enterprise model in Georgia, Moldova and Afghanistan, CNFA and USAID are adapting this model to Africa for the first time.
The enterprises, known as farm service centers, are currently operational in six towns throughout Oromia: Ambo, Bishoftu, Dodola, Fiche, Nekemte and Shashamane. The enterprises were selected following a competitive application and business plan development process. Each FSC has uniform branding and logo usage and maintains a similar floor plan that includes a crop showroom, veterinary showroom, community training room, environmentally sound storage facilities and office space.
To build business and technical capacities, farm service center staff — which includes an agronomist and veterinarian — have received trainings on topics that range from business management and integrated pest management to environmental mitigation, marketing and communications. The program is also working to establish a wholesale buying PLC, or private limited company, that will be owned by and dedicated to serving the inventory needs of FSCs by linking them to national and international suppliers.
For each farm service center, USAID has dedicated $40,000. To promote buy-in and sustainability, the program also asked that, at the minimum, each selected grantee "match" USAID's investment to the dollar. This means that by leveraging private sector investment, each FSC will have a minimum initial value of $80,000, a first for an Ethiopian business dedicated solely to serving the needs of smallholder farmers. How's that for investment in a start-up?
But let's get back to the customer here, the one I was asking you to imagine yourself as: the smallholder farmer.
So far, the positive reaction from customers has been astounding. Chaltu Senbetu, a customer of the Nekemte farm service center, said she had "never seen any other place in town that is as appealing to shop in, that is very clean and safe for medicines and that provides quality products on a timely basis."
When describing the immense value of accessible expert advice, Atsede Abate, a customer of the Ambo FSC, said: "I bought a calf and it became so sick and very close to death. I lost all my hope before I came to this center and got treatment for my animal. Now my calf is more than well and is even running around. I believe this center brings hope to many of us in the town as it is accessible, knowledgeable and welcoming."
These two testimonies, and others like it, suggest that these farm service centers have quickly become a place where farmers access a diverse product line and the expert consultations and training they need to improve their crop and livestock yields. FSCs are enterprises designed to serve the smallholder.
Now, imagine yourself as that same farmer. Would you agree with Atsede that a farm service center can bring you hope of not just a better harvest, but of a better future?
https://www.devex.com/news/enterprises-designed-to-serve-the-smallholder-farmer-83748
.
DANONE : Major shift expected after Danone buy-in at market leader Brookside
.
The entry of French firm Danone into Kenya through the acquisition of a 40 per cent stake in Brookside, the country's biggest milk processor, is likely to cause a significant change in the local dairy sector landscape.
The firm, which deals in fresh dairy products, early life nutrition, water, and medical nutrition, announced on Friday it had entered into a deal to acquire shareholding in Brookside as it seeks to expand its operations in Africa.
The manner of its entry gives Danone control a major share of the growing local and regional market for dairy products without having to start from scratch.
The Paris-listed company has been actively exploring opportunities to extend its footprint on the continent, and the partnership with Brookside will be beneficial as it targets a share of the East African market.
Brookside already has a presence in Tanzania, Uganda and Ethiopia, and there has been talk of the company launching operations in Rwanda and Nigeria. "This partnership will enhance the platform Danone is currently building in Africa," the firm said in a statement.
Brookside spokesman Wilson Okong'o declined to disclose the value of the transaction.
Last year, Danone bought a 49 per cent stake in Fan Milk International, a frozen dairy products and juice maker in West Africa, as well as a controlling interest in Morocco's top dairy firm, Centrale Laitiere.
The Kenyatta family, which previously held a 90 per cent stake in the milk processor, will now control 50 per cent, with the Dubai equity firm Abraaj Group retaining 10 per cent. Abraaj's Africa Fund bought the stake in 2009 for Sh1.6 billion.
Locally, the deal will be a big boost to Brookside Dairy's ongoing expansion and will help it tighten its grip on the Kenyan market. Experts expect that the processor will ride on the financial muscle and the extensive experience of Danone to increase production and execute growth strategies.
Brookside has been on an expansion drive over the past year that has seen it buy out rival processors, making it as the dominant player in the dairy products market.
Last year, Brookside acquired Buzeki Dairy, the producers of Molo Milk, in a deal estimated to be worth at Sh1.2 billion. It had previously acquired other local dairy brands including Ilara, Tuzo and Delamare.
The acquisition of Buzeki automatically gave Brookside a presence in South Sudan, thereby enlarging its regional reach. The processor currently controls over 44 per cent share of the dairy products in the Kenyan market.
PUT UP A POWDER PLANT
As part of its growth plan, Brookside has put up a Sh3 billion milk powder plant, expected to double the capacity of milk processed at the plant to 2.4 million litres daily.
"By uniting Danone's international expertise in fresh dairy products with Brookside's regional expertise and robust supply chain, the partnership will enable Brookside's growth acceleration by expanding its product portfolio and strengthening its geographical presence in key markets in the East African region, including Uganda and Tanzania," Danone said on Friday.
There are, however, concerns about the impact on the local dairy industry and Kenyan dairy farmers if Brookside entrenches its market dominance. By buying out its competitors, Brookside, whose CEO is President Uhuru Kenyatta's brother, Muhoho, has limited farmers' choice of where to sell their milk. Brookside's biggest competitor is state-owned New KCC which lacks the financial muscle to battle it out in the market in terms of prices.
This could leave Brookside with the prerogative of setting milk prices, for both farmers and end consumers.
Danone joins a growing list of French firms that have ramped up investment in the Kenya over the years as more western companies eye a piece of the African consumer market.
http://www.4-traders.com/DANONE-4634/news/DANONE–Major-shift-expected-after-Danone-buy-in-at-market-leader-Brookside-18763539/
.
House speakers sign deal to build new parliament complex at cost of 2 bln birr
.
The new parliament complex
.
Speakers of the House of Peoples' Representative (HPR) and the House of Federation (HoF) signed a design deal on Wednesday at Jupiter International Hotel to build a new parliament complex estimated to cost some two billion birr. 
Abadula Gemeda, speaker of the HPR said that the process for the preparation and awarding a winning design to the new building took an extended amount of time. According to the speaker, the time the process took was necessary to assure the best design is selected to erect a complex that will serve many generations to come in 100 to 150 years. "It's a well thought project that is planned to remain permanent and represent the nations and nationalities of the country symbolically."
Kassa Tekleberhan, speaker of the House of Federation on his part explained that the new planned building show the country's vision of 100 years to the coming generations.
Such said new complex, according to Addis Mebratu, architect and owner of the Addis Mebratu Design Studio, the building will have three major halls. One of them is destined for the MPs office and related activities. The second will accommodate members of the House of Federation. The third hall is designed for public assembly purposes. Other amenities include training facilities for MPs. Addis and his colleagues detailed that the complex will also host research corners and a printing press among others, a playground for children, restaurants and a cafeteria, parking and a garage will also be included in the complex.
Addis said that the two billion birr parliament complex will be designed to host some 900 MPs. A year and half ago the budget assigned for the building was one billion birr. However, if the construction is taking place according to the international design standard the estimated cost will double.
The Ministry of Urban Development and Construction (MoUDC) is assigned to oversee the overall process by the two houses on their behalf. Hailemeskel Tefea, minister of state for MoUDC detailed how the process for the design competition was made. Both local and foreign companies have been involved and Addis Mebratu Design Studio has finally been awarded for its technical competencies.
The proposed building will be erected closer to the existing 72-year-old parliament hall, in the Arat kilo area, in the center of the capital Addis.
In related news, the Association of Ethiopian Architects (AEA) is to award veteran and junior professionals for their architectural achievements. Addis, who serves as president of AEA, told The Reporter that on the 16th annual convention, AEA would award prizes in six categories. The categories include prizes of outstanding achievement in architecture, town planning, prizes for lifetime achievements, prizes for improvement of the quality of human settlements (sustainable architecture,) prizes for best student projects and architectural criticisms or architectural education. According to Addis, 19 architects and institutions have been nominated so far. The convention will take place on July 25 and 26 at the Sheraton Addis sponsored by the African Union of architects.
http://www.thereporterethiopia.com/index.php/news-headlines/item/2268-house-speakers-sign-deal-to-build-new-parliament-complex-at-cost-of-2-bln-birr
.
French company wins Bole airport expansion consultancy bid
.
.
A French company, ADPI, won the bid that the Ethiopian Airports Enterprise floated to hire a consultant for the Addis Ababa Bole International Airport passenger terminal expansion project.  
Early this year, the Ethiopian Airports Enterprise had put up an international tender inviting companies that would supervise the construction of the state-of-the-art passenger terminal at a cost of 250 million dollars. Thirty-eight companies bought the bid document out of which only five submitted bid proposals. The enterprise bid committee has been evaluating the technical proposals presented by the five international consulting firms.
Wondim Teklu, head of communication affairs office with the Enterprise, told The Reporter that a French company has won the bid. He added that an agreement would soon be signed with the company.  The incumbent will also undertake a study on the new mega airport project planned to be built outside of Addis Ababa.  The enterprise is contemplating building a giant international airport in a low land area out of Addis Ababa. The French company will be tasked with undertaking a study on the site selection for the new airport and how to integrate it with the Addis Ababa Bole International Airport.
ADPI is a French architecture and engineering company operating worldwide on complex development and construction projects.
Its range of architectural and engineering services includes consultancy, planning, prime contractorship and project management. ADPI was formed in 2000 as a subsidiary of Aéroports de Paris. Landmark projects include Terminal 3 at Dubai International Airport, the final assembly line factory complexes for the Airbus A380 at Toulouse and the A400M at Seville, the passenger terminal extension at Bogota Airport or the French Embassy in Tokyo.
The Chinese construction firm, China Communications Construction Company (CCCC), has already commenced work on the Addis Ababa Bole International Airport passenger terminal expansion project.  The enterprise will expand the passenger terminal at a cost of 250 million dollars. The loan is secured from the EXIM Bank of China. The project is aimed at transforming the passenger terminal into a state of the art terminal and boosting its capacity substantially. CCCC, which has built a number of highway roads in Ethiopia is the contractor. The design of the new passenger terminal is drafted by a Singapore company called CPG Airports.
The expansion project includes the construction of a new passenger terminal as an extension of the existing Terminal 1 (domestic and regional terminal) and Terminal 2 (international terminal) with all related equipment and the construction of a new VIP passengers' terminal.
The new terminal will house boarding areas, lounges, recreation centers, shopping malls, offices and other facilities. New boarding gates, boarding bridges, and a parking area are parts of the expansion project. The new parking area will serve passengers and staff members.
A major component of the expansion project is the VIP terminal. The first of its type in Ethiopia, the VIP terminal will be dedicated to leaders, senior government officials, diplomats and other dignitaries. The VIP terminal will have various saloons, lounges, conference rooms, recreation centers, duty free shops, an IT center and an exclusive parking lot.
At present the two terminals accommodate 6.5 million passengers every year. When the new terminal is completed it will accommodate 25 million passengers per annum.
The Ethiopian Airport Enterprise owns and operates 18 airports, 15 of which are asphalt. To cope with the fast growth of Ethiopian Airlines, the Ethiopian Airport Enterprise is building new airports in different parts of the country. The enterprise recently built two airports in the Jimma and Assosa towns. It will also soon embark on the construction of a new airport in the town of Hawassa.
http://www.thereporterethiopia.com/index.php/news-headlines/item/2272-french-company-wins-bole-airport-expansion-consultancy-bid
.
East African oil and gas discoveries could kick-start economic transformation
.
.
East African oil and gas discoveries are poised to fundamentally transform the economies of the region as the fuel resources usher in new investment in road, rail, power and industrial infrastructure, according to Standard Bank.
Uganda, Kenya, South Sudan, Ethiopia, Tanzania and Mozambique have emerged as one of the most prolific oil and gas exploration regions in the world over the last 10 years, says Simon Ashby-Rudd, the London-based global head of oil and gas at Standard Bank. These discoveries will establish the region as a major hydrocarbon province in the decades to come and drive wider economic growth throughout East Africa.
"Over and above the traditional oil and gas regions in Africa, notably West Africa, East Africa has essentially been a forgotten desert in terms of upstream oil and gas exploration over the last 40 years," said Ashby-Rudd. "This has changed completely over the last decade. Oil and gas companies are starting to realise the potential in nations along the East African rift valley and Standard Bank believes this is going to fundamentally transform the region's economy."
Oil exploration in East Africa was sparked off by the discovery of between 1.5 and 2bn barrels of commercially viable oil reserves in northern Uganda in the middle of the last decade. Last year the country announced that the total known oil reserves in the country were estimated at about 3.5bn barrels.
The discovery of oil in Uganda coupled with the fact that exploration licences in East Africa were comparatively cheap due to the fact that the region was not regarded as an oil rich area, ushered in further exploration activity in other countries along the Rift Valley. As a result, further oil discoveries were made in southern Ethiopia and Kenya with additional gas finds in Tanzania and Mozambique.
One of the biggest indicators that the region is likely to experience an oil and gas-led boom in the next half decade is the fact that several projects in East Africa are likely to come on stream at similar times. Mozambique's and Tanzania's gas and liquefied natural gas projects are expected to come on stream in 2019 with Kenya and Ethiopia expected to begin commercialisation of their oil deposits over the next six to seven years. Uganda is set to begin oil production by 2018/19, while South Sudan is already producing.
"Oil investment could accelerate the economic growth of several economies in the region," said Ashby-Rudd. "While the discoveries might be fairly modest in a global context, they're very significant in a regional economic context."
Plans are now underway to construct an oil pipeline linking Uganda's oil fields to the coastal port of Lamu in Kenya. In February this year, Uganda signed a memorandum of understanding (MoU) with oil companies operating in the country to facilitate the development of an oil refinery in Uganda as well as a pipeline that enables crude reserves to be exported.
"A pipeline would really kick-start economic growth in the region as it would usher in additional investments, the necessary infrastructure which in turn will enable further investment in industrial operations," said Ashby-Rudd. "Oil thus becomes the catalyst for an economic transformation across the region. An oil pipeline could become the backbone on which an entire infrastructure corridor could be constructed."
Ashby-Rudd says Uganda's efforts to link its oil reserves to the coast to facilitate exports could be replicated by other landlocked nations in Africa. This would allow additional infrastructure corridors to be developed as a means of harnessing the economic potential of central and east African nations such as Tanzania and the Democratic Republic of Congo.
Burgeoning economic growth in East Africa is also likely to result in increasing demand for fuel within that region, which imported a collective $10bn of fuel and petroleum products in 2012. Standard Bank expects total demand for petroleum products in East Africa to treble by 2030 with Kenya likely to remain the largest market in the region, which the bank estimates will record compound annual growth rates of between 5% and 7% over the next half decade.
http://www.howwemadeitinafrica.com/east-african-oil-and-gas-discoveries-could-kick-start-economic-transformation/41503/
.
Local manufacturers to cover 90pc demand of corrugated sheet
.
The Ethiopian Institute of Metals and Industry Development indicated that local metal industries have achieved a maximum level of production, meeting up to 90 percent of the local demand.
Corporate Communication Director, Fitte Bekele, told The Reporter that though the government does not stop companies from importing the corrugated iron sheets, it highly encourages the use of the locally manufactured product, which is abundant.
He further indicated that as part of the government's plan of expansion of the industry sector, the local manufacturers' annual production capacity surpasses over 31 percent.
According to government sources, there are around 25 factories across the nation of which three are owned by foreign companies.
The Ministry of Industry earlier announced that power shortages and frequent cuts are one of the biggest challenges that the manufacturing sector has had in the concluded budget year, which also caused the export performance to decline from what was set for the fourth year of the GTP.
Fitte also told The Reporter that still, to upgrade the capacity of factories and to increase their productivity, the government is working to address the prevailing shortage of raw materials and inputs.
"Now we can utilise the prevailing capacity with the existing local factories so that we are not promoting foreign companies like we do in the other businesses of the manufacturing sectors. We have reached a level that may not require importing additional corrugated iron from abroad," Fitte added.
He further indicated that local factories are looking forward to extending their market destinations to more African nations. For quite sometime only one company has been exporting its products mainly to Djibouti and Sudan, Fitte said.
http://www.thereporterethiopia.com/index.php/news-headlines/item/2264-local-manufacturers-to-cover-90pc-demand-of-corrugated-sheet
.
Expansion at 5 hospitals to be completed
.
Expansion being carried out in five hospitals in Addis Ababa with 448 million Birr are expected to commence operation in the coming September, the Government Construction Agency said.
In a press conference he gave here yesterday, Agency Director-General Tilahun Kebede said the expansion is being undertaken in Yekatit 12, Dagmawi Minilik, Ras Desta, Gandhi and Zewditu hospitals.
Up on completion, the expansion of the hospitals will help to raise the health coverage of the city to 100 percent, he said.
Administrative offices are also being built in five sub-cities with 1.1 billion Birr, he said. Of the total 541 buildings being constructed, 391 have been completed.
Schools, youth centres, shades for small enterprises, and health institutions are among the buildings, he added.
These constructions created jobs for over 28,000 people.
http://213.55.98.22/enae/index.php?option=com_k2&view=item&id=2364:expansion-at-5-hospitals-to-be-completed&Itemid=260#.U8iSofmSwXw
.
Ethiopia: Can free be too expensive?
.
A US non-profit organisation aims to become a self-sustainable business selling condoms in Ethiopia, but it's encountering competition from some unlikely and even well-intentioned sources. James Jeffrey's report from Addis Ababa reignites the old debate over whether free donations are stifling sustainable local businesses.
.
Members Only is the latest condom brand released by DKT Ethiopia that, despite being part of US non-profit DKT International, has every intention of building a successful business model enabling it to shed its NGO status and become a profitable business in its own right.
Since 1989, DKT Ethiopia has sold the country's most popular brands, usually well below market cost and heavily subsidised – UK's Department for International Development has pledged £18m ($11m) from 2011 to 2015 – as part of the effort to tackle problems such as HIV and improve family planning for the country with Africa's second-largest population.
At the same time, Ethiopia's burgeoning economy – averaging 10% GDP growth since 2007 and set to continue by a somewhat reduced but still-high 8% in the coming years – is enabling DKT to shift strategy.
For Members Only is not subsidised and is instead being sold at full market cost in an attempt to get a clear picture of what consumers might be willing to pay for as the company strives to move toward establishing a fully self-sustainable business model.
This is something DKT has achieved with condom programmes in Indonesia, Philippines and Brazil, and if successful in Ethiopia, would provide the country with a more sustainable condom supply. Currently Ethiopia receives millions of free condoms from donor organisations each year.
"Our model [for Members Only] is based on the economic development of the country, and there's reason for enthusiasm," says Andrew Piller, in charge of DKT's condom distribution network in Ethiopia – sending out more than 60m of them a year. There are about 40m stacked in the main Addis Ababa warehouse right now.
DKT is certainly making concerted and bold efforts to achieve its goal. Across the Ethiopian capital, Addis Ababa, huge billboards dominate horizons advertising Members Only and stressing how "membership has its pleasures".
On first viewing one could be forgiven for connecting such a billboard with the types of adverts seen in the likes of New York for so-called gentleman's clubs. But it is meant to be eye-catching and thought provoking in a bid to stir potential consumers' interests, and is notably upmarket for the same reason, with three condoms packaged in a sleek-looking black metal container.
A pack costs 20 birr (about $1), which is up to 10 times more than DKT's other condom brands, such as Hiwot Trust and Sensation, sell for. And as you read this article, there's every likelihood that somewhere in Ethiopia one of DKT's distribution trucks is toiling along a road or even a dusty track, with no corner of a country the size of France and Spain combined, too remote for delivery.
"Distribution in Ethiopia is complicated," says Messele Abebe, DKT's logistics' manager. "But we even get to the Afar desert, where we go door to door visiting pharmacies, and to the Somali border region."
DKT's greatest competition isn't coming from other businesses, however, as one might expect, but from aid organisations such as US Agency for International Development (USAID) and the US President's Emergency Plan for AIDS Relief (PEPFAR) providing a relentless supply of free condoms to Ethiopia.
Unlikely competition In 2015, USAID plans to procure up to 35m condoms for Ethiopia at an estimated cost of $0.03 per condom, according to USAID.
"Ethiopia is still very popular with donors and there is still a lot of aid money flowing in," Piller says. "Sometimes donors struggle with how to spend their funds – and condoms are easy to provide and seem like a self-evidently good idea."
The private sector used to be the major source of condoms in Ethiopia up until 2011, Piller says. But DKT has seen its market share slide from about 70% in 2009 to 30% currently, making the goal of achieving a sustainable and profitable business, and a sustainable condom supply for Ethiopia, that much harder.
"We support market segmentation, but there is a limit to what we can expect people to pay for given the financial situation," says Keith Hummel, commodities and logistics adviser for USAID in Ethiopia. He notes that 29% of Ethiopians subsist on less than $2 a day and that targeted distribution of free condoms combined with health promotions can actually create demand to purchase condoms.
.
Piller doesn't want to see free condoms stopped, he emphasises, rather better coordination between the differing supply systems and the organisations behind them, so that private sector condoms have a chance to succeed and the business model behind them take root."Commodities can't talk and so donor programme managers can blame the product, saying there's a shortage, and so donors give more," Piller said. "It's a bit like taking vitamins: when you overdo it and it doesn't help any more."
Sex workers are a focus for free condom programmes, though Piller notes surveys conducted have illustrated how sex workers are happy to pay for affordable, quality retail condoms, which are already easily accessible at kiosks, grocery stores, pharmacies and the like.
"Everyone involved could do with being a little more data driven," Pillar says. "Free condoms have a role for the poor and those in most need, but don't flood the system."
And too often, free condoms don't actually reach those for whom they're intended, and instead permeate the private sector, Piller notes.
DKT's condoms used to be the ones that Ethiopian hotels habitually stocked in rooms and receptions. I remember finding packs of Hiwot Trust, DKT's oldest brand, regularly in bedside drawers in hotels during previous travels. But nowadays it's not DKT's brands found in hotels but free condoms, much to Piller's chagrin.
"We could be the distributary core, and what we do is more cost efficient," he argues.
Tough choice inside his room on the Addis Ababa University campus, 23-year-old Bereket reached into a cupboard and showed me a pack of Sensation Honey condoms. He prefers this brand because it's "modern", adding that he avoids free condoms because he cannot be sure of their quality.
On the other hand, 26-year-old Negede, a graduate student at the university, said she remembers visiting the university clinic and seeing four male students turn up and start collecting handfuls of free prophylactics."They're my regular customers!", a nurse told her.
Ethiopians have become much more aware of condoms during the past five to 10 years due to advertising, media messages and health concerns, Negede says. The use of condoms, whether free or paid for, seems to have worked well in helping stem the spread of HIV in Ethiopia; the infection rate is relatively low, estimated at between 1.3% and 2.4%.
So which is the better approach – to price condoms just like any other product, and encourage free market development, or to treat them as potential life-savers which should be available to anyone, anywhere, free, at any time? It's a dilemma for all involved.
Ethiopia's condom situation appears emblematic of the wider policy debate that has dominated aid and the question of how best to encourage economic growth in Ethiopia and Africa: the merits – or lack of them – of giveaway – aid culture versus
capacity building.
Western governments have responded to the debate by increasingly endeavouring to tie aid to business opportunities. The US-Africa Leaders Summit this August is intended to "advance the administration's focus on trade and investment in Africa", according to the White House.
In January of 2014, British International Development Secretary Justine Greening announced that the UK would be devoting £1.8bn to growth-boosting investments in 2015–2016. "Economic development is, without question," Greening said, "the only way countries can leave behind enduring and chronic poverty for good."
DKT's goal is to be fully participant in Ethiopia's economic development, and emerge with a business model that is mutually beneficial to its profitability and to Ethiopia, where condoms clearly still have a vital role: World Bank projections predict Ethiopia's current population of about 91m will grow to 134m by 2030.
So far Members Only condoms make up just 1% of DKT's sales. But it still early days, Piller points out; he's hopeful that within the next eight to 10 years, DKT can achieve its goal of transforming itself into a profitable business operating within a more flourishing Ethiopian economy.
"I like to be optimistic even though there's lots of variables that we can't control," Piller says. "But if things remain steady we should get there."
http://africanbusinessmagazine.com/africa-within/countryfiles/can-free-expensive/
.
Indian manufacturers stride to join local investment landscape
.
– Construction firm interested in railway, airport, industry zone projects   –  Giant tractor manufacturer willing to assemble here
The Confederation of Indian Industry comprising 15 Indian business delegates spent three days in the capital looking at opportunities that will enable them to take part in Ethiopia's industry sector.
The delegates met with public officials and posed questions.
From July 14 to 16 the group was busy meeting officials and local businesspersons to grasp what can be tapped in Ethiopia. Tanmony Bhattacharya, head of Africa initiatives at Larsen & Toubro Limited (L&T) was one of the vocal persons from the group. A USD 14 billion conglomerate, L&T is interested in technology, engineering, construction, manufacturing and financial services across the globe. According to Bhattacharya, the company will venture on three major areas in Ethiopia. The company expressed interest in joining the railway sector. Bhattacharya said that L&T would bring in its own finances from the State Bank of India. If intentions are realized, the 670 km stretching Woldia-Mekelle railway project will be handled by L&T, to which the Ethiopian government is required to agree on terms for concessional loans.
Bhattacharya expressed keen interest in areas of airport expansion projects where the firm is waiting for announcements by the Ethiopian Airports Enterprises for bid results. If needed, L&T will avail its own finances for such projects too. The emphasis the government currently is giving is developing industrial zones across the nation. Some projects are pending lacking funds.
During the discussion held at the offices of the Ministry of Industry in Kasanchis, near the UNECA headquarters, Ahmed Abitew, the minister and all his minister d'états were present. Ahmed was eager and gave some accounts of the incentives the Indians may tap into. Minister d'état Sisay Gemechu, in charge of the development of industry zones asserted that he would be available to cooperate and provide the technical details required.
The other Indian giant willing to situate itself here is TAFE, the major manufacturer and seller of tractors and farm equipment. According to Sukhdeep Sing Grover, general manager for exports at TAFE, it will see the assembly line of Ethiopia. He gave his companies details that according to him generate USD 1.6 billion a year. TAFE has a record figure as the third in the world for tractor sales. Yearly it exports some 20 thousand tractors and manufactures, some 180 thousands. India's major exporter, TAFE will soon establish a business relationship with the Metal and Engineering Corporation (MetEC).
A member of Confederation of the Indian Industry however raised concerns over access to finance, customs clearance, investment license fees, and availability of raw materials such as pig iron and others.
http://www.thereporterethiopia.com/index.php/news-headlines/item/2260-indian-manufacturers-stride-to-join-local-investment-landscape
.
Ethiopian flower market in bloom
.
The Ethiopian flower market is blossoming.
.
Between 2007 and 2011, the number of flower stems Ethiopia exported quadrupled to more than 2 billion stems, according to the Ethiopian Horticulture Development Agency. The EHDA is a government agency that aims to make Ethiopia a leading African country in exporting horticulture, including flowers.
After Kenya, Ethiopia is the second largest exporter of roses out of Africa, says Dawit Woubishet, director and owner of Tradepath International Plc., which began flower transport operations in 2007.
Tradepath is a freight forwarder, airline representative, trucking company and distributor based in Addis Ababa, Ethiopia.
Every week, Tradepath operates an average of 10-12 freighters full of flowers, says Woubishet (pictured right). During holidays such as Mother's Day and Valentine's Day, that number can jump to 15 freighters, which is about 900 tonnes of flowers per week. The majority are roses, but carnations and azaleas are also in the mix, Woubishet says.
Tradepath uses trucks to collect flowers from farms and then puts them in a refrigerated warehouse space operated by Ethiopian Airlines. The flowers fly to Liege, Belgium, and then are trucked to Amsterdam for auction. After that, the flowers go to customers in Scandinavia, Russia, Japan and parts of Western Europe.
"The cool chain is very important because the temperature has to be controlled," Woubishet says. "If that's not the case, if we kept all the flowers all together for a longer time, the flowers breathe. So when they breathe, they will touch all the other flowers, and then the heat will come out of them, and this will affect all the other flowers. They're going to have a bad quality."
http://www.aircargoworld.com/Air-Cargo-World-News/2014/07/ethiopian-flower-market-bloom/6641
.
Washington Hotel opens in Addis
.
The former Addis Ababa Restaurant in Washington DC on 18th street has now become Washington Hotel in Addis Ababa. An estimated 180 million birr has been invested to realize the concept of from capital to capital as the owners aim at fostering the sisterly cities' cultural and people to people connection.
For over 30 years Asfaw Amde and his family have resided in Washington DC promoting Ethiopian cuisine and traditional lifestyle on 18th street. "A time has just come to get here," he said. According to the family, Addis Ababa Restaurant in Washington DC has served the country in promoting the authentic religious and cultural values of the country. 
Washington Hotel is located off Cape Verde Street in the commercial district of Addis Ababa in Bole Sub City on the road to the European Union (EU) Ethiopia office. "We have dealt with global hospitality companies to realize a distinct service," Girum Legesse sales and marketing manager said. "We had sold our restaurants in DC and Silver Spring in 2005 to fully focus on Washington Hotel in Addis," Meraf Asfaw, creative director told The Reporter.
After seven years of construction, the hotel is now open creating jobs for 135 citizens. It typically features a penthouse for presidential guests at a price of USD 950, which is hardly available in other hotels in Addis. It also offers prices ranging from USD 95 -160 for its 65 rooms designated as standard single rooms, twin bed rooms, and Washington suites. The hotel is laid down in on area of 1200 sq meters from which ground parking is secured for 50 vehicles and "a terrace that helps guests observe the city at 360o," Girum added.
Because it lacks a swimming pool to claim a spot in the five-star hotels, it has now opened as a four-star luxury hotel waiting for an expansion to construct a swimming pool and other facilities, the owners explained.
http://www.thereporterethiopia.com/index.php/news-headlines/item/2259-washington-hotel-opens-in-addis
.
Government Creates Conducive Environment to Investors – Premier
.
.
Prime Minister Hailemariam Desalegn disclosed that government provides every support possible for companies and business people interested to invest in Ethiopia. The premier held talks in Addis Ababa with Chinese business delegates having big share of investment in China on Thursday.
Hailemariam briefing the delegates said that government creates conducive environment for those committed to invest in Ethiopia. After the talks with the premier number one linen producing, Chinese Kingdom Holdings Textile Company has signed a memorandum of understanding with the Ethiopian Ministry of Industry.
Company's owner Mr. Wimen Pen said that provision of land and other incentives is encouraging to invest in Ethiopia.
His Textile Industry in Ethiopia will fall on 300,000 square meters of land at Lebu with investment capital of 50 million USD.
Ethiopian Investment Agency Head Fitsum Arega the Coming of such larger companies to invest in Ethiopia will play a great role in knowledge and skill transfer, and job creation as well.
Kingdom Holdings is expected to create up to 5,000 jobs in Ethiopia.
This Company has a capacity of producing 11 thousand tons of textile to date and has been a leading in generating foreign currency in China for the last 11 years.
http://allafrica.com/stories/201407181444.html
.
New Procedures for Share Company Registration
.
Document Authentication & Registration Office (DARO) announced it launched new registration and authentication method for share companies which only require the presence of half of the shareholders plus one.
Previously it was demanded all the founding shareholders should present themselves in order to establish a share company.
According to Fortune the shift was made after DARO concluded a MoU with Federal Investment Agency (FIA), Ministry of Trade (MoT) and Ethiopian Chamber of Commerce & Sectoral Association (ECCSA), two weeks ago.
Communication Director at DARO, Alemayehu Debassu, said his office got to work after the conclusion of the MoU in order to avoid the extended time it was taking to establish share companies.
The topic was brought up during the Public Private Consultation Forum of the ECCSA which witnessed the Trade Minister Kebede Chane.
According to a presentation that was made, the system was culprit for a huge expenses and a desperate wastage of resources.
After forum MoT organized a team electing its members from itself, DARO, ECCSA, Ministry of Justice and the Investment Agency. The committee studied the problems and made some suggestions.
On Saturday, May 19, 2014, the committee tabled a study which stipulates nine solutions, out of which five are going to be implemented by DARO, and the rest by MoT and FIA.
Commenting on this Alemayehu said, "The improvement is going to be done in the process of work implementations, without amendments to the law".
According to Fortune, the new system will enable founding share holders to make legitimate minutes and decisions with only 50 plus one percent of the total share holders. DARO will attend the meeting and collect the signatures of those who are present and approve the minutes and decisions on the spot. Election for board of directors will also be approved the office if six of the total 11 directors are
present.
Almayehu noted, "The new implementation system became operational from the day we signed the agreement".
.
Ford drives plans for expansion in Africa
.
.
By Roy Cokayne
Ford has aggressive plans to expand its business in Africa and will be launching 25 new vehicles into the Middle East and Africa region by 2016, with 17 of these models launched into sub-Saharan Africa.
Jim Benintende, the president of Ford Middle East and Africa (MEA), said yesterday Ford had launched earlier this year its fifth business unit, MEA, comprising 67 markets that represented "the final frontier for growth within the global automotive industry".
"The MEA automotive region is expected to grow by 40 percent to 5.5 million vehicles by 2020. By creating sub-regions within Fords MEA's business unit – South Africa and sub-Saharan Africa, as well as the Middle East and North Africa – Ford is strengthening its presence in this dynamic region, which is recognised as one of the fastest growing regions in the world," he said in Sandton at the first Ford Go Further event in Africa.
Benintende said Ford recognised the massive growth potential of the African continent and the opportunities it presented and by the end of next year would have refreshed more than 50 percent of its product line-up in South Africa and 20 percent of its line-up in sub-Saharan Africa.
He said Ford was also supporting its dealer network throughout the region to better serve customer needs, which included expanding its parts and service capability throughout the Middle East and Africa to ensure the shortest possible delivery times.
Jeff Nemeth, the president and chief executive of the Ford Motor Company of Southern Africa, said South Africa remained Ford's engine of growth for the continent going forward and its vision was to become the first choice for mobility in Africa.
Nemeth said Ford launched a total of six new products into the South Africa last year, which contributed to its exceptional 40 percent year-on-year growth to 64 500 units over 2012 and the improvement in its market share to 10.4 percent.
He said the same growth trend had continued this year and Ford's sales were 26 percent higher in the first half of this year compared with the corresponding period last year.
Nemeth stressed that for Ford to ensure its sales growth in Africa, it was vital to provide an affordable product offering.
"Africa is one of the youngest markets in the world and presents a huge business opportunity.
"The buying power of African consumers is on the rise as the continent's middle class increases exponentially. Despite the infrastructure challenges, Africa has demonstrated an impressive return on foreign direct investment, which led to a 5 percent increase in foreign direct investment across sub-Saharan Africa last year alone," he said.
Nemeth added that Ford sales had grown by almost 60 percent in sub-Saharan Africa in the past four years, with Nigeria and Angola its largest markets and accounting for 50 percent of its total sales in the region.
But he said Ford only participated in 24 of the 46 markets in sub-Saharan Africa, which meant there was a massive opportunity for growth.
Nemeth said Ford would become an even stronger contender in the commercial vehicle segment by expanding the Transit brand family across the region.
http://www.iol.co.za/business/news/ford-drives-plans-for-expansion-in-africa-1.1721628