.
Ethiopia to fill Gibe III dam, rejects renewed calls for halt
.
Ethiopia has rejected renewed calls for suspension of the construction of Gibe III dam as it prepares to start filling the reservoir of the hydroelectric dam being built in the lower valley of the Omo River
Ever since the country launched the Gibe III project, some groups have been calling for the halt of the construction citing environmental and social concerns. However, the construction has continued unabated with over 84 percent of the project so far completed
"We expect to start filling the reservoir in few months and begin dry commissioning afterwards," Fekahmed Negash, boundary and transboundary rivers affairs director at the Ministry of Water, Irrigation and Energy, told WIC.
Fekahmed rejected a renewed call by the World Heritage Site Committee asking Ethiopia not to fill the dam 'until a comprehensive social and environmental study of the developments is completed'.
"Building the dam is our sovereign right. Telling us to suspend the construction amounts to trampling this right," Fekahmed said. He said five environmental impact assessment studies conducted on Gibe III project commissioned by independent organs support Ethiopia's position that the project will cause no 'significant harm'
The organs include the African Development Bank, World Bank, European Bank and two studies commissioned by the Ethiopian Electric Power Corporation.
Omo River contributes to 80 percent of the Turkana Lake, a rift valley lake whose large swaths are located within the Kenyan territory. Omo River joins the Turkana Lake, a UNESCO registered world heritage site, inside Ethiopia.
Last month the World Heritage Site Committee called for Lake Turkana, the world's largest desert lake, to be listed as a 'World Heritage Site in Danger', a move that might put pressure on the Kenyan government.
Independent studies say the Lake level has declined 15 to 20 m during the last century. The lake's water level indicate wide variations but evaporation poses the biggest loss of water.
"The level of water has been declining for years even before the launch of this project," Fekahmed noted. "By storing and regulating the water in a cooler climate and inside a gorge, Gibe III dam reduces the amount of evaporation loss," he added
The Ethiopian Ministry of Culture and Tourism has extended an invitation to heritage conservationists in Kenya who are expected to visit the dam site. In the past, a 26-member Kenyan delegation, including parliamentarians, had visited the project. Kenya has since expressed its support for the project
"Both Ethiopia and Kenya are working together to preserve the ecosystem of the Turkana Lake and jointly administer it,' Fekahmed explained.
"Those calling for the suspension of the project could come and work with us instead of coming out with orders that defy our sovereign rights," he added
The 1,870 MW Gibe III hydropower plant is expected to nearly double Ethiopia's current power generating capacity. Ethiopia plans to export a portion of that electricity to Kenya with a power purchase agreement already signed between the two neighboring countries.
Gibe III is the tallest Roller Compacted Concrete (RCC) dam in the world standing 243 meters tall, which will have the capacity to hold as much as 14 billion cubic meters of water.
http://www.waltainfo.com/index.php/editors-pick/13777-ethiopia-to-fill-gibe-iii-dam-rejects-renewed-calls-for-halt
.
Isareli Foreign Minister To Visit Ethiopia In Five-nation African Tour
.
ADDIS ABABA, June 12 (BERNAMA-NNN-ENA) — Israeli Foreign Minister Avigdor Liberman will travel to Ethiopia during a 10-day "strategic visit" to five African countries, according to an announcement on the Israeli Foreign Affairs Ministry's website.
It said Liberman will be meeting high-ranking government officials of Ethiopia, Rwanda, Ivory Coast, Ghana and Kenya. The minister began his tour on Tuesday.
During his stay in Addis Ababa, the Israeli foreign minister is expected to meet President Mulatu Teshome, Prime Minister Hailemariam Dessalegn and Foreign Minister Dr. Tedros Adhanom.
Liberman will hold collaborative financial-business seminars in the five countries, according to the website. The purpose of his visit is to develop economic ties between Israel and these countries.
The minister will be accompanied by a delegation from the Israel Export Institute, including representatives from some 50 Israeli companies and chairman of the African lobby in the Knesset, Simon Solomon.
Liberman was quoted as stressing the need to strengthen Israeli security and diplomatic, political and economic relations with Africa.
He has expressed commitment to further strengthen Israel's relations with Africa in humanitarian assistance, investment and the fight against terrorism.
http://www.bernama.com.my/bernama/v7/wn/newsworld.php?id=1045631
.
.
By Elissa Jobson and Nicholas Norbrook in Addis Ababa
Prime Minister Hailemariam Desalegn on the government's pact with the youth to provide jobs, how to provide representation for opposition supporters, and South Sudan's missed opportunities.
The Africa Report : What is driving industrialisation in Ethiopia?
Hailemariam Desalegn: We are using our comparative advantage. We have a young population. Land is abundant. We have cheap electricity, and we support priority industrial sec- tors in terms of financing, at least partially, from our policy banks.
The most important thing is changing the mindset.
Developmental states in Asia were very active in managing corporations. is there that administrative capacity here?
In Japan, you had one ministry of trade and industry which was very strong. But if you look at South Korea, there are a number of institutes that support this process. We have chosen the Korean model, as we don't have the capacity to run things through one ministry. So we have institutes to push skills development and technology transfer, to support these priority sectors in textiles, leather, food and beverages, chemical industries and metals.
We are trying to have teams that are assigned to just a few industries that can follow them carefully from the beginning to the maturation of those indus- tries. Since we don't have much capacity at this time, we opted for bringing professionals from outside. The Korean Development Institute is helping us. India is supporting us in textiles and leather. We have institutional links with those countries who have been successful.
In south Korea, a generation sacrificed itself for industrialisation. Are Ethiopians ready for this?
You don't need to take all Ethiopians along with you, but you need a major portion, especially the young. Look at our education system. Our higher education enrolment is 70% in engineering and science, and 30% in social science. So 70% are going for industrialisation. Similarly, nearly all those who can't get into higher education go to technical and vocational training. There is an indoctrination process about where Ethiopia has to go and how this generation has to sacrifice to bring productivity up. The most important thing is changing the mindset. We want to bring everybody into the movement where they think about productivity and quality, which is the basis of being competitive. And we will go further in this, to high schools later on, to bring the young people into this mindset as our national agenda.
Funding the state infrastructure drive is tough. What are your options?
Firstly, we are mobilising domestic finance. If you take China and the other recent develop- mental states, their main source of finance was domestic savings. We have an encouraging trend in Ethiopia. We thought that our savings would increase from 6% of GDP [gross domestic product] to 15% by the end of the Growth and Transformation Plan [GTP]. But, remarkably, it has already passed that figure, reaching 17.7% today, before three years of the GTP had elapsed. So we have revised our plan to make it 20% by the end of the GTP [in 2015]. This is the time to squeeze our people, to have more saving and less spending.
We are constructing the $4.6bn Grand Renaissance Dam from these savings. People wanted to contribute for free, but we said: 'You have to build the culture of saving, and you have to buy bonds.' But that is not enough. We still have a shortfall in terms of financing, so we are also attracting investment from Brazil, India, China, Turkey, Japan and Korea. We are getting their savings invested here at preferential rates. We also want to go for commercial loans. We have to get a credit rating, so we are working on that, which is going smoothly.
we are also attracting investment from Brazil, India, China, Turkey, Japan and Korea
Do you think soldiers are the best people to spearhead industrialisation, thinking of the Metals and Engineering Corporation (METEC) in particular?
In many countries, military organisations that have very good laboratories and workshops only use them for military use, not for development purposes. So we wanted to use the capacity we have in the military sectors for civil development. METEC is using that capability and discipline – in the history of mechanical engineering, much has come from the military. That doesn't mean that METEC will be the only institution that does this, but it will be a leader. Then the private sector has to link with it. METEC is working now with big private sector engineering companies and also smaller ones, which helps spearhead the process.
Looking forward to the 2015 elections, are you expecting the opposition will gain more seats in parliament?
As far as the elections are concerned, we want to focus on the process. We have to make the process democratic, free, fair and credible in the eyes of our people. Then the result is up to the people. I cannot predict that this many seats are going to be given to the opposition or the Ethiopian People's Revolutionary Democratic Front (EPRDF).
Do you feel that the process is democratic?
Our institutional process and our laws and regulations are perfect. It is not the law that hinders but the implementation of these laws. Therefore, we have put in place the code of conduct of all parties. Strictly abiding by this code of conduct will help the process to be more democratic, free and fair and also credible.
If there is a similar outcome to 2010, where only one opposition candidate won a seat in parliament, do you think that may affect the credibility of the government?
I don't think so because if the decision is taken by the people, all of us have to agree to it. We have to accept it whether it is sometimes irritating to some of us.
Would it be useful to have an opposition in parliament that could give constructive criticism?
The code of conduct is designed in a way that it helps the shortcomings of the parliamentary election. In Addis, for example, the EPRDF has dominantly won. But out of the 3 million people in Addis, something like 400,000 voted for the opposition. The 400,000 have a voice that has to be heard, but how can you make it? In that sense, we have an inter-party dialogue mechanism. Those parties who competed in the election can come together before the parliament discusses bills or policy issues.
We always wish to have a strong opposition so that it will become a mirror to us. We need somebody from outside criticising us because that helps us to improve, but we are not lucky to have such an opposition.
They don't have their own clear policy. They do not properly evaluate the basis of this government and what it has achieved so far, against all the odds in the region. They seek some kind of violent mechanisms to sweep the EPRDF away so that they will come to power. This is wishful thinking.
Are you concerned about the regionalisation of the conflict in South Sudan?
In the Intergovernmental Authority on Development (IGAD) region, we have already agreed that we are committed to avoid any regionalisation of the conflict. There will be a deterrent and protection force that is going to be deployed to South Sudan from the region. Sudan and Uganda also agreed not to be part of this force from IGAD. That avoids any kind of regional conflict. The only thing is we have to exped- ite the implementation of this deterrence and protection force.
What is Ethiopia's position on the Ugandan intervention? Has it complicated the situation?
It has not complicated it. It has been helpful because had it not been for Ugandan intervention, you would not see a government standing now. It would have collapsed very quickly. There are views from both Sudan and Uganda, differing views that might lead to some problems on the ground, so we want to see a phased withdrawal of Uganda and the non-involvement of Sudan in the armed composition of IGAD.
We have deployed 100 technicians and bureaucrats to South Sudan.
There was much euphoria when South Sudan became independent. Are you disappointed with how things have turned out?
We were expecting this to happen. We are not disappointed. We have been suggesting to them that this might come because they have forgotten their direction. What their policy is towards a new state has not been properly spelled out. Who is going to lead the process has not been properly [put] in place and institution building has been ignored. We have deployed 100 technicians and bureaucrats to South Sudan. We have signed a number of agreements to support them in institution building. We have agreed and signed a number of agreements on common infrastructure development. We pushed them, but nothing has happened. We have learned our lesson from our mistakes. We wanted to share our experience with them. After rebels become a government, a proper transition has to take place.
How are the Ethiopian-led African Union Mission in Somalia (AMISOM) offensives going?
I think the game has changed since AMISOM troops and Ethiopia joined. In cooperation with other existing AMISOM troops, we have liberated a number of towns and villages from the yoke of Al-Shabaab. That is only a military achievement. We need to have humanitarian support to those liberated areas quickly. This is our demand. There is some movement, but it is not enough.
Are you concerned that because of the visibility of Ethiopian troops in this offensive there will be reprisals at home?
We were always a target for Al-Shabaab. The most important thing is that our people have to be vigilant. Our security sector also has to be active in this regard. This is our day-to-day business.
http://www.theafricareport.com/East-Horn-Africa/this-is-a-generation-that-has-to-sacrifice-ethiopian-pm-hailemariam-desalegn.html
.
New Customs Proclamation Proposed
.
A new customs proclamation aimed at establishing modern customs legal framework which encourages development of manufacturing industries and investment is proposed to the parliament.
The proclamation will help to provide effective and speedy service needed in the international trade, Muferihat Kamil Government Whip with the rank of State Minister told the parliament.
It will help to bridge gaps observed in the customs proclamation the country is currently using since 2001E.C. The need for more modern customs legal framework to support development of industries and investment make introducing new proclamation necessary, she said.
The MPs raised various question on the draft proclamation that need clarification and it referred to the Budget and Finance Affairs, and Law and Administrative Affairs Standing committees for further scrutiny.
http://213.55.98.22/enae/index.php?option=com_k2&view=item&id=2203:new-customs-proclamation-proposed&Itemid=200
.
Authority to Launch Market Information System for Industrial Products
.
Trade Competition and Consumers Protection Authority announced that it will launch a market information system for international industrial products.
Director of Market Information, Compilation, Interpretation and Dissemination with the Authority, Etissa Deme, told ENA that preparations are finalized to launch a market information system that will enable the Ethiopian business community to get market prices of all products elsewhere in the country.
He also stated that the proposed market information system will incorporate free SMS and a website to disseminate market information.
Currently the Authority provides market information on about 700 agricultural products.
The director said discussions are in progress with market information providers so as to deliver prices of international industrial products for the consumer.
According to him, the Authority gets market information from Addis Ababa, Amhara, Oromia, Tigray and SNNP regional states market information centers. It is currently working to access market information from other regions.
Etissa said the Authority will disseminate the daily market information of Addis Ababa market information centers and the weekly market data of the regional market centers through SMS and its official website, in addition to utilizing the media and cooperatives.
The director disclosed that the website will be developed with the support of Bahirdar University.
The website, in addition to providing current market prices of products for business communities, will also inform the public about levels of products and internationally-banned items.
To this end, the Authority is working together with Ethiopian Conformity Assessment Enterprise (ECAE) and Ethiopian Standardization Authority (ESA), it was indicated.
http://213.55.98.22/enae/index.php?option=com_k2&view=item&id=2204:authority-to-launch-market-information-system-for-industrial-products&Itemid=200
.
Projects With Over 9.9 Billion Birr Capital Licensed in Amhara State
.
Some 833 projects with over  9.9 billion birr combined capital have received licenses to undertake different investment projects in Amhara State during the current Ethiopian fiscal year, the State Industry and Urban Development Bureau said.
Speaking at a problem identifying consultative meeting in Debrebirhan, Bureau Deputy Head Ato Melaku Alebel said there were shortages of infrastructures in some towns and gaps in creating awareness on the abundant human resources available in the towns.
To encourage investors, the bureau has designed 19 investment alternative projects in all zones of the state and 11 industrial villages equipped with sufficient infrastructures are readied in 18 towns, he added.
In order to alleviate the existing problems, the bureau has even opened branch office in Addis Ababa to support investors after holding consultative meetings, Melaku said.
On the other hand, close to 1,800 hectares of land seized illegally in North Wollo Zone was taken away and distributed among 5,578 youth, according to Ato Wodaj Miskir, expert with the zone.
Similarly, 1,825 hectares of land illegally occupied in Lasta woreda was given to youth, elders and women last Ethiopian year, it was learned.
http://213.55.98.22/enae/index.php?option=com_k2&view=item&id=2202:projects-with-over-99-billion-birr-capital-licensed-in-amhara-state&Itemid=250
.
Primary Education Net Attendance Reaches 94% in Gambella
.
Primary education net attendance in Gambella State has reached 94 percent, the state education bureau said.
Activities carried out over the past four years enabled the state to increase access to primary education, according to Tut Jock, Bureau Deputy Head.
The villagization program being implemented in the state during the past few years has helped the regional government provide educational infrastructures for villages.
Construction of schools and raising awareness of parents about sending children to school helped to raise the rate to 94 percent from the 72 percent at the beginning of 2003E.C.
The state has also managed to narrow gender disparity in primary education, he said. Currently number of girls attending primary education is almost equivalent to boys.
The state is working to improve access to primary education and achieve the goal set for the growth and transformation plan, to reach primary education coverage 100 percent.
http://213.55.98.22/enae/index.php?option=com_k2&view=item&id=2190:primary-education-net-attendance-reaches-94-in-gambella&Itemid=251
.
Great Lakes Private Sector Responsible Investment Roundtable Held in Addis Ababa
.
Great Lakes Private Sector Responsible Investment Roundtable was held here on Wednesday to explore how responsible investment can contribute to inclusive business and sustainable development, and to share concrete examples of success stories from Africa.
Speaking on the occasion, Prime Minister Hailemariam Dessalegn said speakers are expected to share their perspective on the current context and investment climate in the Great Lakes Region.
A responsible private sector and its investment activities can greatly contribute to peace, stability and economic development in the region, according to him.
The PM explained that focusing investment on productive sectors like agriculture, manufacturing, ICT, energy and infrastructure sectors where the countries of the region have comparative advantage is of paramount importance.
Special Envoy of the UN Secretary-General for the Great Lakes Region, Mary Robinson, said on her part the aim of the roundtable is to exchange ideas on how to boost investment and economic opportunities in the Great Lakes Region in sustainable manner.
Supporting regional economic development and integration in the Great Lakes in a manner that respects and promotes human rights goes to the very heart of what thirteen governments of the region committed to doing when they signed the Peace, Security and Cooperation Framework for eastern DRC and the region here in Addis Ababa a little over one year ago, she elaborated.
She emphasized that women and youth should be involved and remain critical for any responsible investment in the region.
Female participation in economic life is a tool for empowerment and an essential component of building strong economies and stable and just societies, increasing stainable development, and improving human rights and quality of life for women and girls, Mary concluded.
http://213.55.98.22/enae/index.php?option=com_k2&view=item&id=2194:great-lakes-private-sector-responsible-investment-roundtable-held-in-addis-ababa&Itemid=260
.
Nyota Minerals selling interest in Ethiopia gold project
.
Nyota Minerals (ASX:NYO) has entered into a conditional agreement to sell its remaining 25% stake in the Tulu Kapi Gold Project in Ethiopia to KEFI Minerals for £750,000 (A$1.34 million) in cash and 50 million KEFI shares.
Proceeds from the sale will be used to further evaluate the Northern Block Licences, including the potential for near term cash flow from mechanised alluvial mining, and on other opportunities in Ethiopia.
The company noted that KEFI had completed a new mineral resource estimation in March and it would have been required to contribute to Tulu Kapi pro-rata to its shareholding, or suffer dilution of its shareholding.
Financing options were insufficient to fund Nyota's 25% of the new budget, or £325,492, its evaluation of the Northern Blocks as well as working capital requirements.
This led to the decision to sell its interest in Tulu Kapi.
http://www.proactiveinvestors.com.au/companies/news/55557/nyota-minerals-selling-interest-in-ethiopia-gold-project-55557.html
.
Ethiopia to export crocodile meat and expect to sell it for $260 per kilo
.
Ethiopia's only crocodile farm announced it will start exporting crocodile meat in the coming year to Asian countries.
According to Dr. Tigest Ashagre, the Farm manager, the ranch has only been exporting crocodile skin because there was no abattoir. She added the Farm is now preparing to export safe and quality crocodile meat to the international market where the demand is high and has a price of 260 US Dollars per Kilo. She commented this is a profitable business in bringing huge foreign currency to Ethiopia.
The construction of the abattoir is 90 percent through, Tigest said. She added the destination for the meat to be exported will be Asian nations.
Being first established in 1976 for the purpose of breeding crocodiles and exporting their skins, the Farm currently has some 7,750 crocodiles in its breeding pool and conservation site. However, Tigist stated, the earning form the export of crocodile skin went down through time.
According to the Manager, the major challenge the Farm currently faces is the lack of well equipped and skilled manpower specialized in crocodile farming. She added, "In a bid to tackle the problem, we have established strong links with higher learning institutions so as to train students in the field of crocodile farming".
Other than exporting crocodile meat and skin the Farm has the ability to be a tourist site, Tigest said. She further noted the Farm has plans to establish a zoo and keep other animals such as ostrich and piton.
http://sodere.com/profiles/blogs/ethiopia-to-export-crocodile-meat-croc-meat-could-be-sold-for-260
.
Kessem irrigation dam nears completion
.
The Kessem irrigation dam, an undertaking under a sugar development project bearing the same name, is nearing completion.
The irrigation dam, which will have the capacity to develop 20,000 hectares of land in Afar regional state, is 99 percent complete, according to the consultant – Federal Water Works Design and Supervision Enterprise.
Located inside the rift valley region, the construction of the dam proved daunting with the contractor Federal Water Works Construction Enterprise facing geological challenges.
"Ethiopian experts have gained some practical and invaluable lessons from the project," Getu Molla, resident engineer of the consultant, told WIC adding that the irrigation dam has so far consumed some 2.6 billion birr.
The dam, located in Awash Fentalle wereda, will have a reservoir capacity of half a billion cubic meters of water diverted from Kessem River, also known as Bulga River. Project owners say the reservoir could also be used to provide clean water for the community as well as for fishery development.
The 720 meters wide and 90 meters tall dam is part of the Kessem Sugar Development Project which aims to cultivate 20,000 hectares of land with sugarcane plantations to feed the crushing plant.
The plant will have the capacity to crush 6,000 tons of cane per day (tcd) during the first phase of construction and will be upgraded to 10,000 tcd. The plant, which is being built by China Complant Group Inc, is expected to go operational in November 2014.
At full capacity, Kessem will have an annual sugar production capacity of 260,000 tons, 30,000 meter cube of ethanol and 26 MW of electricity (contributing 15 MW to the national grid).
http://www.waltainfo.com/index.php/explore/13752-kessem-irrigation-dam-nears-completion
.
Wolkait sugar project well in progress
.
Wolkait sugar development project is progressing well, general manager of the project, Amenay Mesfin said.
The factory being built by a Chinese Engineering Company in Tigray Regional State has the capacity to process 24,000 tonnes of sugarcane per day.
"The first phase construction of Wolkait sugar factory and other related works on the project are in good progress," Amenya told WIC.
The total area of land for sugarcane cultivation is 50,000 hectares and it will be developed with water from Zarema River upon which a dam named May-Day is under construction, according to Amenay.
The dam, which is under construction by Sur Construction, a local company, is 845 meters wide and 142 meters high with water holding capacity of over 3.8 billion cubic meters.
The project manager further said that the construction of 1,056 residential units and 55 service institutions is underway at the project site and they are currently 60 per cent complete.
According to Amenay, Wolkait sugar development project has so far created jobs for 23, 619 people, including 5,484 female.
Some 2,316 households relocated in connection with the sugar development project were paid 127.7 million birr compensation, according to the project manager.
The factory will produce 484,000 tonnes of sugar and 41, 654m3 ethanol as well as creates up to 100,000 jobs once it began production with full capacity after three years.
http://www.waltainfo.com/index.php/explore/13733-wolkait-sugar-project-well-in-progress
.
Ethiopia's tech landscape: unique challenges, massive potential
.
By Erik Hersman: In Kenya, ventureburn
Having recently visited Addis Ababa, I thought I might write down some of my impressions. The last time I was here was over 20 years ago, as I would fly between Khartoum and Nairobi for boarding school. Needless to say, much has changed, except for the warm hospitality of the Ethiopian people.
EXPERIENCING ETHIOPIA
Mobile carriers and their spam advertising
It's non-existent here. I was shocked when I landed at the airport, since there were no billboards or ads for any mobile operators (only the phone manufacturers). I didn't realise how much mobile operator advertising there is in the world until I got to Ethiopia.
2G vs 3G SIM cards
"What is that!?" I thought the guy who was telling me about them was confused, but he wasn't. They actually sell SIM cards that are different here, and you can't buy 3G SIM cards right now, since the government-run company (ETC) that manages all ISP and mobile carrier traffic is upgrading to 4G. They'll sell 4G cards then, and until then you're stuck with sipping out of the 2G straw.
Rent-a-SIM
Luckily I have a friend who has a friend, named Feleg, who rents SIM cards. He's an Ethiopian techie who spent much of his life in Colorado, and is now back building his own businesses. Besides hooking me up with a 3G SIM which now runs in the BRCK, it turns out Feleg is a really good front-end engineer and UX guy.
The Internet Speeds
They remind me of internet speeds in Kenya in 2007, pre-undersea cable. Usable, but not great. Everyone says that they were faster until recently, when all the big road works started to cut the cables and cause some disruption in the service.
The Roads are Amazing
There's hardly any traffic and the roads are really well built. There are advantages to a centralised autocracy, as Rwanda shows us as well. Police/soldiers are everywhere — literally on every corner. Traffic is hit or miss, but overall it moves faster than in Kenya. Mostly due to there not being a lot of cars. Importing a car here has seemingly arbitrary rates of duty, ranging from 100% to 500% (so I was told) and that number might change while the vehicle is in-transit.
Great Leather
I didn't know this before, but Ethiopia is renowned for it's leather. Some of my old contacts have a shoe company called Enzi Footwear, who make some of the best quality leather shoes you'll find anywhere. One of the founders works in Italy's fashion markets, so you can guess just how nice they are. Unfortunately, they didn't have my big shoe size, but you might see Bono wearing a pair from time-to-time.
ETHIOPIA'S TECH HUBS
As I was getting ready to head to Ethiopia to speak at a conference, one of the main things on my agenda was to see the hub IceAddis. To my surprise, I also found out of a new community-based tech hub, called xHub. Here are some of my thoughts on both.
IceAddis is renowned in the African tech hub community for its amazing design. This is for good reason, as they sit on the EiABC, the architectural and design school at the university. It's been part of the AfriLabs network from early on, and one of its co-founders, Oliver, was kind enough to pick me up and take me to see the space.
There is a semi-finalist from Ethiopia in this years Pivot East event, for the first time ever, and it's not surprising that they came from IceAddis. In fact, I ran into one of the founders in Addis, and I'm excited to see a company from a new country in this year's event.
That semi-finalist is Online Hisab (Ethiopia): a cloud-based accounting package for Ethiopian SMEs, who are looking for an affordable and easy to use accounting solution.
I've never been a fan of seeing tech hubs or labs showing up on university campuses (as I've never been a fan of government run/setup ones).
The team at IceAddis confirmed why. Due to the amounts of bureaucracy inherent in the system, it makes doing anything almost impossible. Their space was fairly empty when I came through, likely due to time of the day, but this also might be due to its location in town or due to being on campus.
One really great thing I got to see was their maker space, which is only used by the architectural school, but they do some amazing things with it and it holds great promise. Now, if only Ethiopia would bring some consistency to component and equipment import regulations.
The moment I stepped into the hotel in Addis Ababa, I was met by one of the local tech guys, Kibrom Tadesse, who started telling me about this new tech hub that he was planning called xHub. I was surprised I hadn't heard of it, so he arranged for me to be picked up by his business partner and primary driver behind the space, named Tedd Tadesse (his brother-in-law).
I wasn't sure what to expect, to be honest, and was thinking that they might be better served by joining with IceAddis. However, after talking at length with Teddy and seeing the location, I changed my mind and realised that there was indeed room for both spaces in the community. The community badly needs a space that is enterprise and entrepreneur-focused, that is welcoming to the business community.
First, the xHub space is amazing. The building that it's at and floors it can take up are just what you'd expect from a top-end community tech hub in one of Africa's major capitals. If they can wring a deal out of the landlord for the roof space, it'll be the best event space on the continent.
The plan is to get the community involved in the build-out, design and use of the xHub right away. I'm excited about it, and I know the community is as well, as I talked to a number of young entrepreneurs and coders later that day.
Thoughts on the Addis Tech Community
After a lot of discussions with the tech hub leaders, a few tech entrepreneurs, over a dozen computer science and engineering students, and then experiencing the internet in Ethiopia, I came away with a few thoughts.
The tech community in Addis is smart, hungry and realises the potential of the country they live in. It felt a little like Nairobi in 2005, where there was this growing desire to get connected (faster), build businesses and show up on the global stage.
The infrastructure of connectivity in Ethiopia is constrained by government monopoly on telcoms (mobile) and internet, so they really struggle for good service.
Due to their foreign currency trade restrictions, investors aren't keen to work in the market too deeply. This means funding and access to other markets are hard.
With the size of the local market (some 80 million people) they realise there is a home market, and some of the businesses are honing in on the b2b and public-sector opportunities.
I'm curious as to what will happen next. The tech hubs seem like the best vector, since they provide a nexus point for activities and people to find each other. Being in a country where government control is so heavy, these tech hubs have to work with the government, and I hope that this will open doors and increase the flow of capital into the start-ups rather than constrain them.
http://sodere.com/profiles/blogs/ethiopia-s-tech-landscape-unique-challenges-massive-potential
.
Ethiopia Elected Deputy Member of ILO Governing Body
.
Ethiopia was elected (on June 02) to a three-year term (2014-2017) as Deputy Member of the Governing Body of the International Labour Organization (ILO), during the 103rd International Labour Conference. In addition to Ethiopia, Sudan, Kenya, Angola, Tanzania, Zimbabwe, Algeria, Burkina Faso, and Niger were elected from the African continent.
Ethiopia is expected to dedicate its time to coordinate and collaborate its efforts with elected countries of Africa to jointly promote Africa's position for the term of 2014-2017 on various issues including migration, employment, and human trafficking. It is tasked to oversee member countries' measures to create favorable working climate to their workers.
Abdulfetah Hassan, Ethiopia's Minister of Labour and Social Affairs, headed the Ethiopian delegation to the Conference, and lauded the commendable contributions made by ILO for its sustained support to the protection of the rights of Ethiopian nationals abroad.
He also called on ILO to continue its. He further noted that the Government of Ethiopia had made ceaseless progress in the areas of economic, social, and political development with the view to tackle human trafficking as well as protect the rights of Ethiopian nationals abroad. He added that Ethiopia had become a force for peace in the Horn of Africa and beyond.
The Ethiopian delegation explained that Ethiopia had strived for the enhancement of its cooperative partnership with ILO in the areas of technical assistance and capacity building. It also indicated that the Government of Ethiopia established the National Task Force led by Deputy Prime Minister, Demeke Mekonnen, focusing on the prevention of human trafficking.
It was detailed that Ethiopia was committed to sustain the inclusive economic development and dislodge the root causes of trafficking and smuggling of persons, including poverty, lack of education, unemployment and other problems. It was noted that Ethiopia had dedicated its efforts to further cement democracy, good governance and human rights.
Appreciating ILO's activities in the fight against forced labour, the Ethiopian delegation urged to extend its commitment to "suppress forced labour by unanimous adoption of a strong instrument containing the core principles of prevention, compensation and access to justice as well as supplementary regulatory mechanisms."
http://allafrica.com/stories/201406110649.html
.
MIGA and OPIC team to unlock investments in African agriculture
.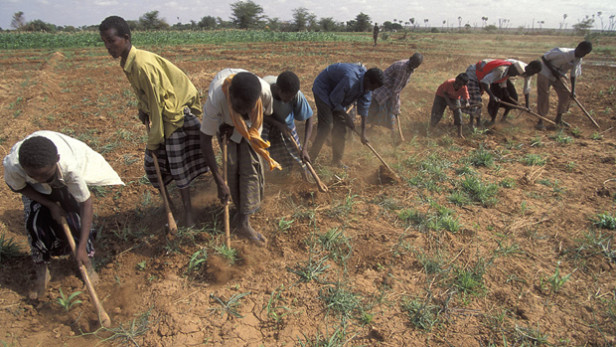 Farmers plant crops in Kenya. A new partnership aims to improve food security in sub-Saharan Africa.
.
A new partnership between a U.S. government agency, a World Bank Group member and a private equity fund plans to help about half a million small-scale farmers boost yields and improve food security in sub-Saharan Africa.
The U.S. Overseas Private Investment Corp. and the Multilateral Investment Guarantee Agency announced Monday that they would create a $350 million political risk facility to support agribusiness investments in sub-Saharan Africa.
OPIC will provide the political risk coverage and MIGA will take on 60 percent of the risk of each investment made by the Silverlands Fund, a private equity fund that focuses on agribusiness in several sub-Saharan African countries.
"We are helping Silverlands to mobilize and deploy critically needed new private investment in sub-Saharan Africa's agricultural sector," said John Moran, OPIC's vice president for insurance, in a statement.
The risk coverage is provided under terms and conditions that are preagreed and then tailored to specific investments.
Facilities, like this one — which help reduce risks from political violence, corruption and currency issues — can boost private equity investments in key sectors in emerging and frontier markets.
"We're very excited about this partnership with OPIC that allows us to further our support to sustainable investments in sub-Saharan Africa's agricultural sector — an area that is essential for the region's prosperity and food security," said MIGA Executive Vice President Keiko Honda in a statement.
The Silverlands Fund plans to reach 500,000 farmers in the next 10 years by investing in agribusinesses that work in parts of the fruit, grains, soy, sugar, poultry and livestock value chains. Those businesses will serve as hubs for local farmers to provide a market, technical assistance and education.
https://www.devex.com/news/miga-and-opic-team-to-unlock-investments-in-african-agriculture-83661
.
Livestock urine fights banana diseases in Uganda
.
Written by Julius Omondi for Farmbizafrica
Ugandan farmers are embracing a traditionally cheaper therapy of soaking banana buds in livestock urine before planting as banana diseases and pests take toll on a crop that provides income and food to over 85 percent of East Africans.
Fuelled by the skyrocketing prices of conventional pesticides, the seemingly innovative Matoke farmers vowed not to be deterred by the emerging farming challenges especially pests and disease.  Andrew Sanyu is among the determined farmers who have mastered this low cost pest and disease control method. "Urine therapy was initiated by our fore fathers and is a unique way of safeguarding our crops from pests and diseases especially bananas, coffee and even tomatoes. It's an affordable means provided that one has some livestock especially cows whose urine is collected for the exercise, explained Sanyu.
The middle aged farmer who hails from Mukono is proud about the discovery and noted that apart from keeping pests and diseases at bay, the solution has also helped his crops attain healthy growth and even increase on the yields.
In order to successfully adopt the practice, a farmer who has cows is needed to design his cowshed in a way that he can successfully collect the urine. Sanyu has mastered this art given that he has built the shed in a slanting way. The floor is cemented and near the rear edge, a channel has been dug leading to a collection hole which is fitted witted with a bucket. The urine then collects in the bucket and Sanyu takes the collection every morning.
The urine is then mixed with ash to make a mixed solution. "The amount of ash depends on the amount of urine but one should ensure that the ash is not too much to make a very thick mixture. The solution is then left to ferment for a fortnight." According to him, the ash is used to purify the urine by killing any disease carrying pathogen and also to reduce the acidity, within the urine. "If you sprinkle the fresh urine to the crops then majority of them may wither because of the high acidity levels in it hence this process is vital for anyone who wants to get the best results," added Sanyu.
After fourteen days the solution is presumed ready for use despite the sharp smell it may have. According to Sanyu, a dedicated farmer does not mind about the dirt and odour smell which are part of the practice. I only mind about the wellbeing of my crops and animals hence the sharp smell does not bother me because I already know the returns the solution promises me.
The solution's use to every crop is different. For instance for the leafy crops like coffee, kales and tomatoes, one can use a grass broom to sprinkle it onto the crops. Sanyu also explained that the exercise should be done weekly in case the crops are not yet affected, But in case the crops are already infested then its ideal that one sprinkles the solution daily preferably early in the morning or late in the evening.
In case of banana, the procedure is different as the solution is used on the buds before planting. The buds that are carefully chosen for planting are inserted into the solution and left to stay there for at least one week. "The buds will suck the solution from the base through osmosis up its main stream in the stem. The solution's entry into the buds' body helps kill any disease causing pathogen.
This eventually cleanses the crop making it resistant to bacterial and fungal diseases." According to him, the bananas that have undergone this therapy before planting are always healthy, disease resistant and high yielding. "Most of the bananas which haven't undergone similar therapy have exhibited stunted growth, yellowing of leaves, drying and even low quality fruits," added Sanyu.
http://farmbizafrica.com/index.php?option=com_content&view=article&id=1036:livestock-urine-fights-banana-diseases-in-uganda&catid=19:pest-control&Itemid=142
.
Kenya's GM Ban and the Future of GM Policy in Africa
.
At the moment, growing genetically modified (GM) crops — those bred using modern transgenic methods rather than conventional ones — is only legal in three African countries — South Africa, Sudan, and Burkina Faso. By the end of the year, Kenya may join those ranks.
In January 2014, Kenya's Education, Science, and Technology Cabinet Secretary Jacob Kaimenyi announced plans to legalize the import and commercial cultivation of genetically modified crops by the end of the year. Although resistance to GM crops is still strong in many parts of the world, Kenya is on the leading edge of African countries warming up to more GM drought-resistant, pest-resistant, and herbicide-resistant plants.
Except this actually isn't the first time Kenya is legalizing GM.
Five years ago, Kenya incited international controversy as it opened its doors to GM for the first time when then-President Mwai Kibaki signed the Biosafety Act of 2009. This law lay down important ground rules and frameworks for governing GM crop cultivation, and it also established the National Biosafety Authority (NBA) to monitor and regulate potential human health hazards of GM crops. A highly contested move, no doubt, but still measured and intentional.
So why then did the Kibaki administration turn on its heel three years later and suddenly ban all GM crops?
It had a lot to do with one journal article. In September 2012, a study led by Gilles-Eric Séralini published in Food and Chemical Toxicology associated GM maize consumption with tumor growth in rats. Although the paper was retracted by the journal the following year for methodical blunders that rendered results inconclusive, anti-GM advocates brandished it as strong evidence for health hazards, confirming the worst fears of many sub-Saharan African leaders who were still on the fence.
Only two months after the study was first released, Kibaki signed into law a blanket ban that would prohibit the import, sale, distribution, or consumption of GM foods in Kenya. This sent out a shock wave of anxiety throughout sub-Saharan Africa, prompting President Goodluck Jonathan of Nigeria to postpone his country's plans to allow field testing of GM crops, which would have otherwise preceded legalizing commercialization.
So far, the scientific consensus holds that crops bred with transgenic methods do not pose a greater health risk than those bred with conventional methods, and, although controversial, this position has not yet shifted.
But the scientific integrity of individual studies like Séralini's is not what is most concerning here. This ban was severely detrimental to the process of rational policy-making in general. Without consulting any of its agricultural research institutions, the Kibaki administration bypassed the NBA — whose sole purpose was to supervise and regulate the transfer, handling, and use of GM food products — and single-handedly shut down GM imports. The short moral here is to resist "one-study syndrome," the dangerous practice of basing policy decisions on an insufficient and unreliable body of scientific information, in this case, the lone Séralini paper.
But incidents like these are primed to happen when unfounded fears about GM are ignited into a hasty policy when a single journal article resounds with those apprehensions and are not tempered by the knowledge of scientific authorities. Policies like this ban are not unusual, nor will they cease to occur again in Africa. A short moral is not enough.
A quickly executed blanket ban destroys nuance in the GM issue — something that the international GM debate desperately needs — and further confirms the canon that scientists and agriculturalists have been fighting: that all GM crops are the same, and that all of them are very dangerous.
Golden Rice, for example, is a vitamin-fortified rice variety which has been genetically modified to enhance nutritional value. The Golden Rice Project has been led by public sector organizations, does not receive support from private companies, and features royalty-free access to the patents and intellectual property of Syngenta, the biotech company partner. Golden rice in particular has not yet taken root in Africa but, as it is, faces enough challenges taking root in Southeast Asia, where field trials have been vandalized and destroyed by farmers led by environmental NGOs.
Or take WEMA, a drought-tolerant maize project whose name has been "smeared" by big ag company Monsanto's participation. Coordinated by the African Agricultural Technology Foundation (AATF), this public-private partnership has developed resilient maize varieties and aims to make them accessible to farmers royalty-free through local African seed companies. Most don't know that Monsanto has donated its commercial drought-tolerance and insect-protection traits royalty-free.
Both of these examples feature GM plants and involve big ag companies. In a blanket ban like Kenya's, both too would be swept in under one big umbrella with cash crops, Monsanto's commercial Round-Up-Ready maize, and whatever other GM organisms inside or outside of African that strike fear into the hearts of environmental NGOs.
Food security and malnutrition are high-stakes problems. Sub-Saharan Africa claims the highest prevalence of malnutrition in the world, and undernourishment contributes to about a third of deaths in children under the age of five. Clinging to caricatured notions about GM agriculture is a dangerous move and costs hundreds of millions of lives.
With consequences like these, there can be no excuse for irrational, alarmist policy-making. If Kenya and other sub-Saharan African countries intend to eradicate malnutrition and food insecurity, they will have to seriously rethink their agricultural systems, which involves capitalizing on new forms of agricultural technology. And if they want to tap into the potential of GM crops, they will have to adhere to rational policy-making processes that leave no room for sloppy decisions based on whims or unfounded science.
http://www.huffingtonpost.com/april-zhu/can-we-be-rational-kenyas_b_5434687.html